After one of the most bizarre winters in recent US history, summer is finally here. And unfortunately, experts are predicting that it's going to be quite hot. That means increased risk of heat stroke, something that any experienced welder will tell you is no joke. Luckily, we've got some pro tips to help keep you cool, while also eliminating some common issues that could affect the quality of your welds during the warmer months.
Hot, Hot Heat
Despite states like Texas enduring a bitter winter this year, experts are predicting that they will also have an incredibly hot summer. Besides heat stroke, the sun also has a serious effect on your productivity.

Luckily, there are a number of ways to keep cool. One of the most simple and easy solutions is a welding umbrella. These function similar to beach umbrellas, but they are made with industrial materials, allowing them to take much more of a beating.
A lot of welders also use cooling vests, which hold multiple frozen packs of ice against your body. Drinking water is also key, since your increased sweating will cause you to become dehydrated faster than usual.
The ultimate solution and the one preferred by most professional welders is a PAPR system. These pull air through a fan and cool it down, then pipe it into your helmet and around your body. While they cost a little more money than most passive cooling systems, the level of comfort they provide is what makes them the envy of the welding world.
No Shoes, No Shirt, No Service
One of the most common mistakes you'll see a lot of welders make during the summer is removing layers of protective gear. There's no doubt about it, welding without a shirt, in shorts and flip flops might initially feel like an escape from the heat. But when you're dealing with 2nd and 3rd degree burns later on, it won't seem like such a great idea.
The problem is that, depending on which process you use, you might not see the immediate consequences of shedding some of your protective gear. But if you continue pumping your skin full of UV rays produced by welding arcs, you're eventually going to find yourself in a world of pain.
Of course, just because clothing is protective, doesn't mean it has to be hot and bulky. In fact, most gear designed by the top brands is lightweight, durable and designed to keep you much cooler than a thick coat. Most long sleeve welding shirts are just as comfortable as a t-shirt and don't force you to have to sacrifice your personal protection. Revco Black Stallion's clothing is one of our personal favorites right now, though both Miller, Lincoln and some other highly trusted brands also have a great selection of welding gear designed to keep you cool.
It's Not Just The Sun
While heat from the sun will be your body's biggest problem, it might not be the main issue for your welds. While working outside, you don't have walls to block the wind. Gusts can pick up dirt and deposit them in your pool as you weld. On particularly windy or dusty days, this can cause some major issues. Wind can also reduce the effectiveness of your protective gas when MIG and TIG welding. Particularly hot and humid days will also have a similar effect (because of the increased water droplets in the air).
For most welders, the solution is generally pretty simple. On days where the weather is good and the winds are calm, working outside isn't an issue. On bad days, most welders move into their garage or a workshop to stay out of the wind or humidity. The only problem with this comes from having to move your equipment around. If you don't already have a cart, we strongly, strongly recommend you think about it. It's one of those small, life-changing purchases you'll wonder why you didn't make earlier.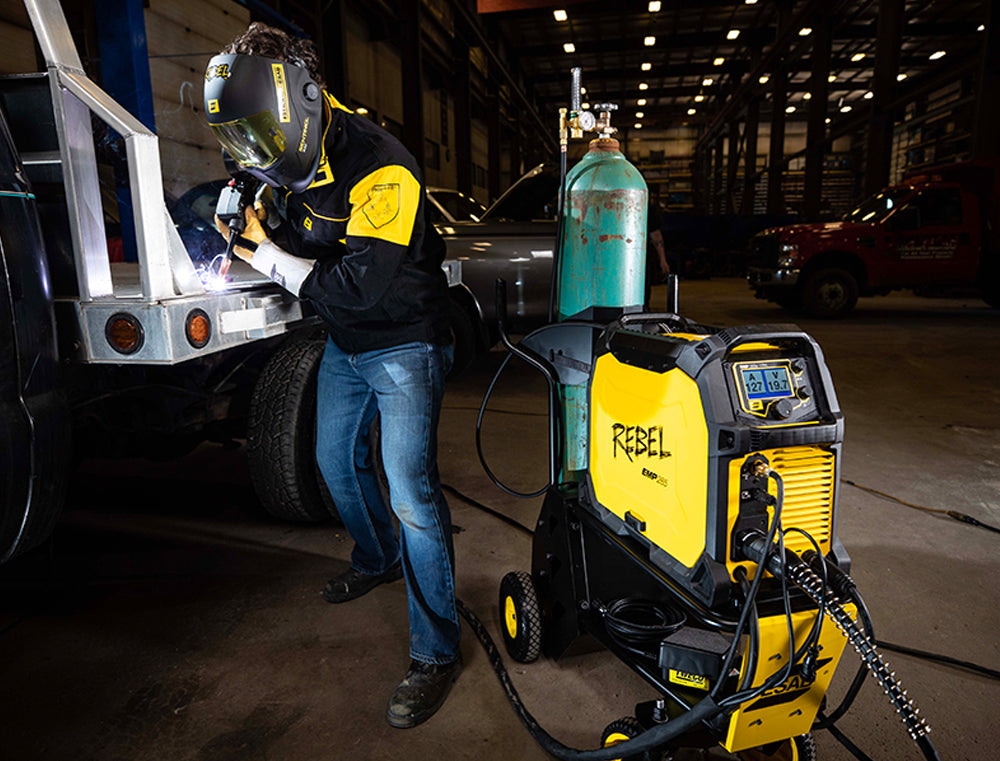 For some welders, moving indoors really isn't an option. In these cases, it might make sense to use a stick machine instead. Because stick electrodes already contain protective gas in the rod itself, they usually have less issues with weather and humidity. Stick machines are also less expensive compared to others. Here's a list of our favorite stick welders for 2021.
With these tips, you can stay as cool as Mick Jagger (like before he got old and had a hip replaced). Just remember: For any new gear or equipment to help you manage the heat, always check with Welding Supplies from IOC first. We've got the best pricing on the web when you sign up for our loyalty program, giving you free money on every purchase.