Right now, IOC has some great prices on Optrel's best-selling helmets, plus our "try it, love it or return it" promo on the Optrel E684. The only real question is, which Optrel helmet is right for you?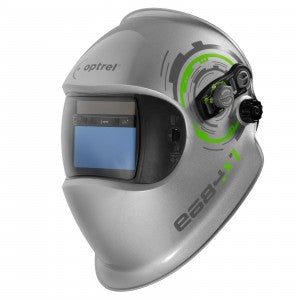 Optrel E684 (1006.500, 1006.501, 1006.502)
One of Optrel's best-selling and highest-rated helmets of all time. It's like comfort and performance met in a nice, but not too pricey motel to create the perfect child. For instance, the Optrel E684 has adaptive shade level control that automatically detects your amperage and adjusts the shade of your lens accordingly. But isn't that what auto-darkening helmets do? Most auto-darkening helmets automatically lighten and darken between welds, but how dark they actually go has to be set by you manually. With the E684, that's all taken care of.
Not convinced? Try it for yourself then. We're serious. Right now, you can try the Optrel E684 and if you don't completely love it, send it right back. Check out the silver, black or dark blue E684 helmets to learn more.
Two bits of fine print: Returns must be initiated within 14 days of receipt and buyer pays for return shipping.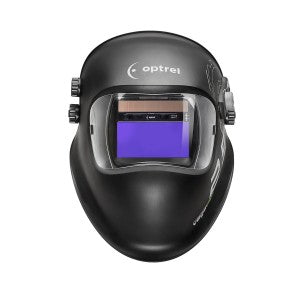 Optrel Vegaview 2.5 (1006.600)
While foregoing some of the fancier bells and whistles of the E684 (and coming in at $88 cheaper), the Vegaview is one of the most solid mid-level welding helmets ever made. We're talking the ultimate in reliability. It's like they took the best welding helmet features from the last 10 years and combined it into one trusty piece of equipment. Adjustable shade levels, a tried-and-tested headband system that distributes the weight of the helmet perfectly and a precise auto-darkening system to keep you from being flashed or fumbling around in the dark.
Check out the details for the Optrel Vegaview 2.5 for yourself.
Optrel Liteflip Autopilot (1006.700)
Between Optrel Vegaview and the Optrel E684, you'll find the Optrel Liteflip. While it may not be the best of the best of the best (sir!), it might be the best for you. It takes the solid foundation of the Vegaview and combines it with many of the next-level improvements of the Optrel E684. We're talking adaptive shade autopilot and Twilight ADF tech that adjusts the auto-darkening light in a more natural way to reduce eye fatigue (so it doesn't feel like you're watching a strobe light all day). Unique to the Liteflip is the lens's ability to be flipped-up, meaning you can essentially take off your helmet without actually taking it off.
Right now there's an amazing deal on the Optrel Liteflip for $299.00, that's $100 less than the amazon price. Check the Liteflip Autopilot out for yourself here.