What does New Years have to do with welding machines? Everything. Because there's this awful little nugget called inflation. To keep up with inflation, welding companies have to increase prices. Those price increases generally start to happen early in the beginning of the year. In other words, now's the time to take advantage of the best prices before they go up.
Luckily, 2019 has been a solid year for welding machines. We had the introduction of the best multiprocess machines ever seen with AC and DC TIG capabilities. There are also incredible prices on the reigning top favorites from the best brands. Here's some of the best welding machines of 2019 that you owe it to yourself to check out.
Multimatic 220 AC/DC Multiprocess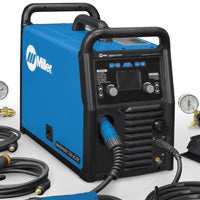 While multiprocess machines aren't new, they've been the frontlines of competition and innovation. Up until this year, however, a dedicated TIG machine could still outperform even the best multiprocess machine. The biggest issue: multiprocess machines couldn't AC TIG weld, meaning aluminum and titanium was out of the picture.
ESAB was actually the first to announce their prototype of a multiprocess machine able to AC/DC TIG. ESAB even had the first working demo. However, during production, they encountered issue after issue. This allowed Miller to engineer, test and launch the Multimatic 220 before ESAB's 205.
Despite being announced after ESAB's machine and launched before, the Multimatic 220 is anything but rushed. It's able to reliably AC and DC TIG weld, making it as capable as any dedicated TIG machine. Combine that with it's ability to MIG and Stick and you've got the ultimate welding machine designed to handle just about anything.
We're offer a special deal for a limited time. Buy the Multimatic 220 and get a free Miller Digital Performance series helmet of your chose. Just place both items in your cart and use code FREEPERFORM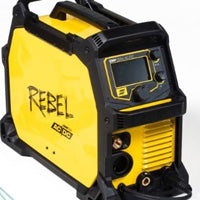 ESAB Rebel EMP 205ic AC/DC Multi-Process Welder
ESAB might have taken their time between the announcement of the 205 and when it was released, but they definitely did it right. While the ESAB 205ic fits inside the same case of its smaller sibling (the 215), it's anything but the same machine. With AC and DC TIG capabilities, the 205 is one of the few multiprocess machines on earth able to TIG weld aluminum and Titanium. This makes it a literal "go-anywhere, weld-anything" machine.
While the ESAB Rebel 205ic and Miller Multimatic 220 can both AC/DC TIG, that's about where the similarities end. Each machine has their own pros and cons. Which one you prefer mostly comes down to how you already feel about these brands and which features are most beneficial to you.
For a limited time, we've got a $100 rebate on the ESAB Rebel 205ic.
While a new wave of multiprocessing machines took this year by storm, the Square Wave 200 is still one of the best dedicated TIG machines in the world. There are two reasons the Square Wave is so loved: Ease-of-use and its full range of capabilities.
Some machines are designed for experts but leave beginners feeling lost and frustrated. Others are beginner-friendly but don't have much to offer to experienced welders. The Square Wave has everything. It's easy to set up and easy to use without being restrictive. It's also incredibly reliable, taking away a lot of the frustrations felt by both beginners and experts.
The Square Wave also does it all when it comes to TIG welding. It was doing AC/DC TIG before the Multimatic 220 was even a twinkle in its momma's eye. Of course the 220 is a multiprocess machine, but if all ­­­­­­you're ever wanting to do is TIG, the Square Wave TIG 200 is the machine for you.
You can't have a top welding machines list without mentioning this legend. The Millermatic 211 is one of the best-selling machines of all time. As we've written at length about this welder, feel free to check out our more in-depth review here.
Right now, we're offering a $150 cash rebate on the Millermatic 211.
While lacking the ability to AC and DC TIG weld, the Rebel 215ic is an incredibly solid multi-process machine with a great track record of being well loved in the community. For a better in-depth review, check out our article here. <add link>
For a limited time, we're offering a $200 cash rebate on this machine plus a free helmet with code: REBELSUMMER.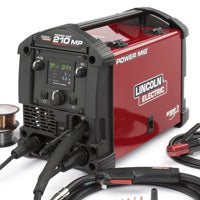 Lincoln Power MIG 210 MP Multi Process Welder
Another time-tested favorite, the Power MIG 210 is a solid choice for anyone who doesn't plan on TIG welding aluminum or titanium. That being said, you can purchase the aluminum one-pak version that does allow limited aluminum welding (though it still can't TIG weld aluminum). The 210 is an incredibly reliable, well-designed multiprocess machine that comes in at about half the cost of new AC/DC TIG multi-process machines. So if you're not ever planning on TIG welding aluminum or titanium, the Power MIG 210 is a great way to go.
Right now, we've got a $375 rebate on the Power MIG 210 MP. Hurry thought, this is a serious deal that won't be around too much longer.
No matter what brand you prefer, you'll find the best prices with Welding Supplies from IOC. Click here to check out the latest sales and make sure to take advantage before prices inevitably go up as we finally clock out of 2019.