Lincoln just launched one of the best deals on welder/generators we've seen in at least a decade. Now Miller has joined the party with a sweet deal of their own. This War of the Welder/Generators has sparked some of the best savings ever, meaning if you've been thinking about getting a welder/generator, now is the absolute perfect time.
We'll take you through all the key details of each promotion and help you decide which route is best for you. As a quick side note, If you're needing to brush-up on your understanding of welder/generators or just looking for some pro tips, here's a great guide.
LINCOLN'S MONEY MATTERS SALE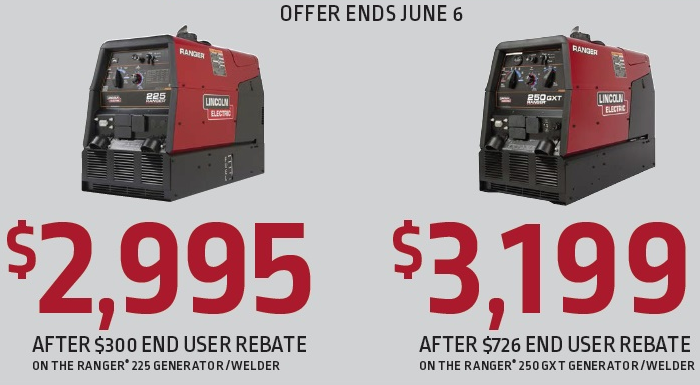 Lincoln's Money Matters promotion features 2 different welder/generators. Buying the Ranger 225 right now will save you $300 after an end user rebate. If your welding projects tend to be a little more demanding than the Ranger 225, you can save $726 on the Ranger 250 GXT after an end user rebate. One incredibly cool aspect of Lincoln's promotion is that instead of opting for the end user rebate, you can instead choose a specific accessory package worth quite a bit more. For the Ranger 225, the package consists of Stick welding accessories valued at $1,112. For the Ranger 250 GTX, the package is a wire feeder and MIG accessories set valued at $2,860. If you're a TIG welder who will never use MIG or Stick, you might want to go with the rebate. But if the package matches up with your preferred process or a process you're looking to learn, you can save almost double by going with the accessories.

Both the Ranger 225 and Ranger 250 GXT are tried-and-tested machines. The Ranger 225 runs at 225 amps on its CC mode (Stick welding/TIG welding). For CV mode (running wire), you can get up to 200 amps. That's pretty good coverage, but if you're working with more demanding materials, it might be better to look at the increased power of the Ranger 250 GXT. Both Rangers also feature outlets, allowing you to power other equipment from their generators. The Ranger 225 and 250 GXT both also come in closed cases to keep the elements from damaging their inner workings.
The Ranger 250 GTX is a noticeable step up from the 225. Normally with that step up would come a fairly significant price increase of almost $2,000 or more. But with Lincoln's current sale, the Ranger 250 GTX comes in at just $3,199 after end user rebate, saving you $726. Similar to the 225 in physical size, the Ranger 250 GXT offers AC/DC welding current while the Ranger 225 only features DC. The Ranger 250 GXT also has an increase amperage at 250A for MIG, TIG and Stick.
MILLER BOBCAT PROMOTION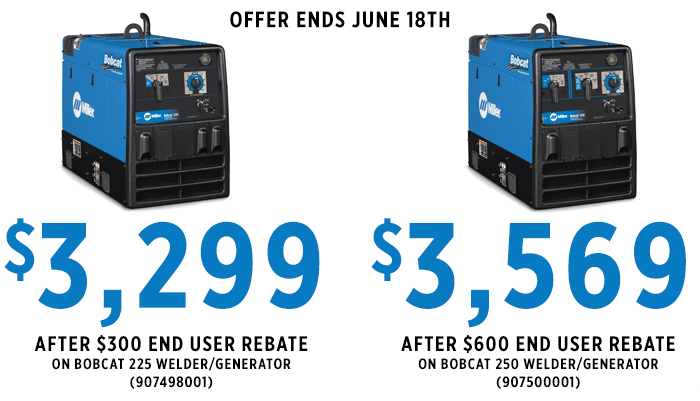 Miller's promotion features its own equivalent to Lincoln's welder/generators with their Bobcat 225 and Bobcat 250. When you purchase a Bobcat 225 (907498001), you'll get to pick between a $300 end user rebate or a new Millermatic 125 Hobby welder, worth $579. If you're looking for a new MIG machine for smaller projects, the 125 is a great option. If you decide to go with the Bobcat 250 (907500001), you'll have your choice between a $600 rebate, a Maxstar 150 STL TIG Welder (worth $1,195) or Spectrum 375 X-Treme Plasma Cutter (worth $1,322). The latter 2 are a great option if you've been thinking about getting a plasma cutter or a new TIG welder since you'll probably never find a better deal than free.

Miller has put a lot of effort into improving some of the Bobcat 225's quality-of-life features in the last couple of years. For instance, the Bobcat 225 is incredibly quiet compared to most generators making it much easier on not only your ears, but allowing you to work in more populated areas without problems. The Bobcat 225 also features AC/DC polarity.
The Bobcat 250, like the Ranger 250 GTX, is a step up from the 225. The Bobcat 250 features all the benefits of the Bobcat 225 including reduced noise levels, easy maintenance and a smaller frame than many welder/generators. But with the Bobcat 250, you'll be getting quite a bit of more power. The entire Bobcat series also features much higher fuel efficiency, using up to 25% less fuel than most older models.
If you've been holding out for a good deal on welder/generators, now is the time to go for it. Whether you bleed blue or red, you're looking at some incredible machines from both Miller and Lincoln. As a final pro tip, remember to turn in your rebates. The process is incredibly painless and simple. If you have any problems, you can always contact our experts to help you as long as there's still time left on your rebate. Check out more information about each of these welder/generators by clicking their images below.