The Lincoln Ranger series is a staple of the welder/generator world. And while improvements have been made to the GTX 250 and other machines over the years, it's a rare occasion for an entirely new machine to be released. A few weeks ago, Lincoln published this teaser video, hinting that something big was coming.
Now we know this mystery machine is the recently released Ranger 330MPX. In terms of performance, size and noise-level, the 330MPX represents a significant improvement. And while Lincoln is always shy on parading around their machines' features (at least compared to some other brands) the 330MPX boasts quite an impressive array of technological improvements and additions.
Lighter, Smaller, Quieter
Right off the bat, this machine really pushes its reduced weight and size: 20% smaller than in-class competition. Since "in-class" isn't always clear, let's compare the 330MPX to Lincoln's most popular Welder/Generator, the GTX 250.
When looking at total size, the 330MPX comes in at about 10.8 cubic feet. Considering the Ranger GTX 250 is about 15.6 cubic feet, you're looking at quite a size reduction there. The 330MPX is also lighter: 150 pounds less than the GTX 250 and 60 pounds less than the Ranger 305G.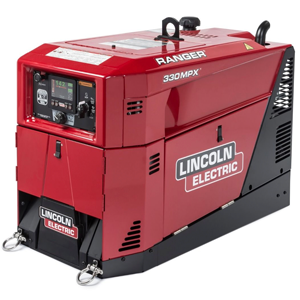 Noise-wise, the 330 MPX is up to 60% quieter than in-class competition. At full load, it reaches 74.7 decibels. That's about 25% less than the GTX 250, which already boasted a respectable level of quietness. It's not going to put you to sleep, but it's perfect if you're working near populated areas or during odd hours of the day (like 5am to avoid the heat, but everyone keeps complaining about the noise and you're like, "Do you want this done or not?!").
Features, Features, Features
Lincoln tends to quietly promote the features of their machines compared to some other brands. But they're definitely there and definitely useful.
First off, the display on the 330MPX combines the best of digital and analog controls. For the main buttons, you've got nice, solid turning nobs. Unlike the Ranger 250 GTX, the 330MPX also has a touch screen. This allows the 330MPX to provide you with instant feedback and more control with less clutter. The 330MPX's ArcFX Technology uses the screen to let you know how your settings affect the weld outcome.
The 330MPX also has all the quality-of-life improvements you'd expect with a machine of this caliber. Lincoln's Chopper Technology monitors and adjusts your machine as you begin welding to provide an easy, smooth start to every weld with consistent arc and low splatter.
Limited Time Deal
With its new release, Lincoln is offering a $1000 cash back rebate for a limited time when you purchase a Ranger 330MPX. Check out all the details for yourself with the button below.