Studying welding in college can be a significant boost for your career and your skills, especially if you've got your eye set on a Welding Engineer or Welding Inspector role. But the increase in pay and responsibility doesn't come without its own obstacles. If you're looking at studying welding, here's 6 things you should know beforehand.
Welding Is Different From Any Other College Major
Studying welding in college means you'll have a lot more hands-on work than most other majors. You'll spend a lot of time honing your skill and perfecting the craft. Welding classes are made up of 2 parts: The first takes place in the classroom, where you'll study the ins and outs of welding so you can truly understand what's going on. The other is called a "Lab" and takes place in a workshop. Here you will actually use the welding equipment. This is great for those of us who'd rather use their hands then spend their whole college experience buried in a book like many majors. However, it also means you can't skip class and expect to pass with flying colors. Even if you know the skills, most professors keep track of who shows up to labs.
What's included in "hands-on work"?
You know that using a welder isn't like using a blender—you don't change the settings and then push a button. You'll use lab time to apply what you've learned in class, figuring out how little details like how angles can combine with your skills to create the perfect bead. Depending on your college, "hands-on" work might also include various certification exams. Even if it doesn't, with the skills you learn in college, you'll be able to pass many of the different certification exams on your own.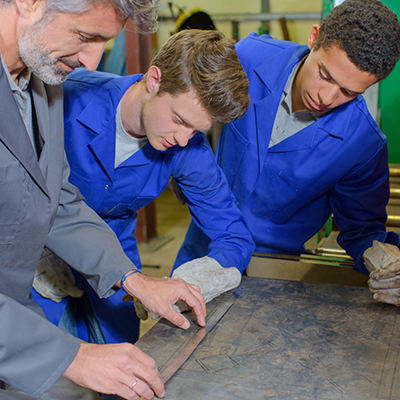 What does book learning have to do with welding?
Knowing the theories and principles of welding gives you a leg up. If you understand why something like changing the voltage affects the amperage, you can anticipate issues before they arise. This also means you can explain these issues to other people who wouldn't understand in any other terms.
How are you graded?
In class, you take tests based on what you've learned from the book and the professor. In your labs, you're given a set of parameters and conditions for a project. Then your welding is evaluated based on the AWS (American Welding Society) standards for appearance, completion, and whether you followed the parameters of the project.
What's the benefit of studying welding in college versus learning somewhere else?
There's lots of ways to learn how to weld, but some positions require a college degree. Without a college experience, becoming a Welding Engineer or Welding Inspector takes a minimum of 12 years of on-the-job experience.
College also gives you the necessary big-picture skills that make you more hirable, such as an understanding of cost or how to communicate with all of the non-welders involved in a project (mechanical/electrical engineers, financiers, etc.).
Am I Really Cut Out For College?
Studying welding isn't easy—like any other college degree, you're going to have to work for it. But it's worth it, especially if you're serious about welding being more than just a job, but a real career. Get familiar with using power tools, such as a grinder, and be ready for the heat. If you do decide to study welding, be proud. A college degree in welding is a highly marketable skill that sets you apart. Welders—and welding engineers and managers—are just as necessary as mechanical or electrical engineers.  Your skill makes a big difference between the success or failure of any project.
Since you're looking at new ways to put your welding skills to work, why not check out these other useful pro tips:
Making Money As A Hobby Welder