For years, Miller had a perpetual promotion known as "Build with Blue" that featured new rebates every quarter. With COVID backhanding the global supply chains into a near-unrecognizable state, Build with Blue hasn't returned. That's led some of you to wonder, "What's going on with Miller?"
Well, lend us your ears, eyes and pinky fingers, because we're going to be covering what's happening with everyone's big blue favorite brand.
A New Miller Deal is Here!
Miller might not have started back up the official Build with Blue promotion, but Welding Supplies from IOC still has a deal for you. And the best part is, unlike Build with Blue that only applied to specific machines, this promotion works for any Miller product.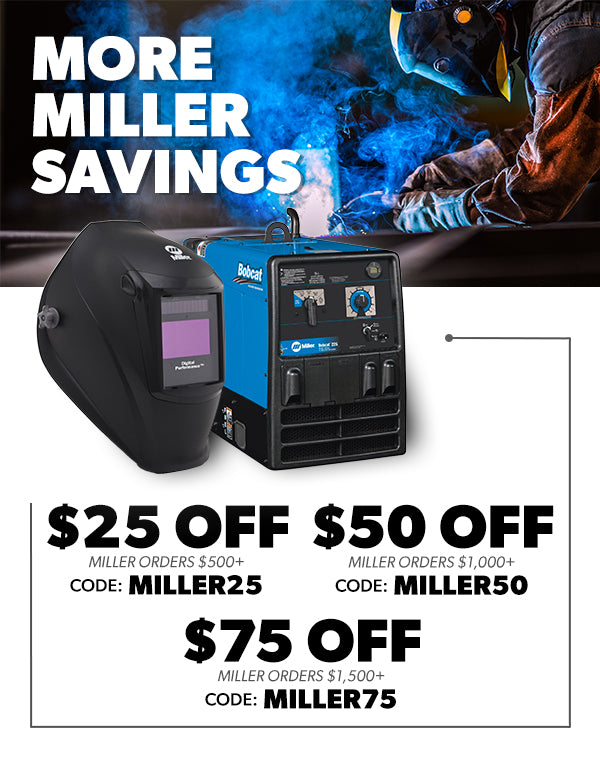 There isn't a better way to spend some of that holiday gift money than a new Miller machine, helmet or other gear. Here's some of our favorite Miller products to get you thinking:
The Multimatic 220 was our best-selling Multiprocess machine in 2021. It's one of only a few multiprocess machines on the planet that can AC and DC TIG weld, meaning it can actually weld aluminum.

If you're looking for a new helmet, some changes have been made to the Digital Elite series. Before, it was pretty much a no brainer to spend a little bit of extra cash and go with the Digital Infinity helmets instead. However, Miller recently upgraded their Digital Elite series to include:

• NEW Digital Controls that allow users to easily adjust modes and settings
NEW Redesigned headgear featuring additional adjustability settings for better fit & comfort

NEW 3 Year Warranty

NEW Grind AND Cut modes
While we'd still recommend the Digital Infinity helmets if you can afford the extra cost, this definitely makes the Digital Elite a strong pick if you're hoping to stay below $300. With these improvements, the major benefit you'd be getting with the Digital Infinity compared to the Digital Elite is the extra viewing space. Don't get us wrong, that's nothing to shrug off. The Infinity has 13.4 square inches of screen. That's basically like a Bay Window for your face.

To see our full list of the best-selling equipment of 2021, check out our article here.
Miller Made Welding into A Video Game
We couldn't do a full report on Miller without mentioning this:
We've been saying for years that what Halo really lacked was a working welding gun. Miller must have been thinking the same thing because they've gone along and created their own virtual reality device designed to teach someone to weld. It's actually pretty cool. A screen can either be fitted into their special welding helmet or mounted on the welding gun and makes it look like you're actually welding. A welding gun device can be moved along, mimicking how a real welding gun would function.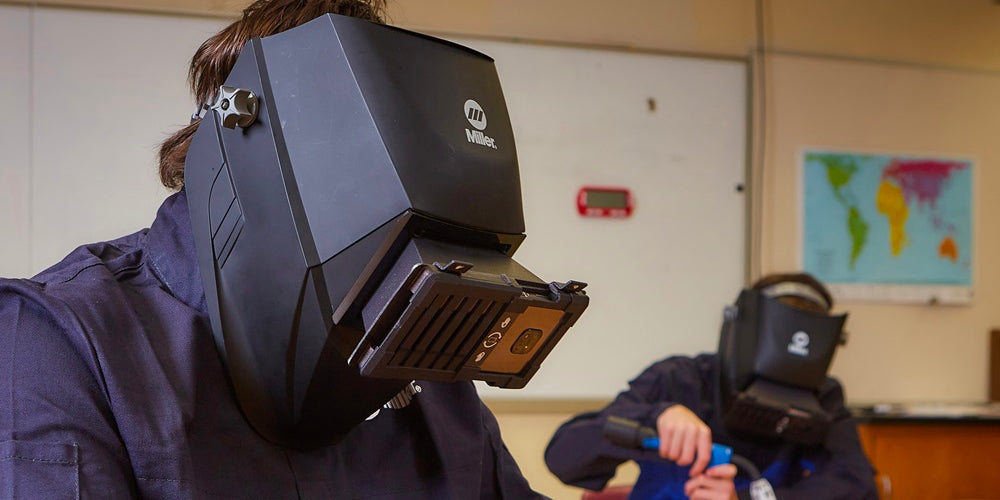 Now no one at Miller is saying this is the perfect substitution for really welding. However, this means beginners can learn positioning, travel speed and angle for all the various different types of joints without burning through a bunch of consumables and scrap metal. Schools that don't have room in their workshop (or don't have a workshop at all) will still be able to teach all the basics of welding. But before you ask, no it does not fully simulate the pain of another welder accidentally flashing you while your hood is up. That's just an experience only the real world can truly teach you (yes Kevin, we still haven't forgiven you for that!).
If you're looking for a new Miller machine, the current deal is only available from Welding Supplies from IOC. It's the perfect place for all your welding needs with the best customer service in the industry.