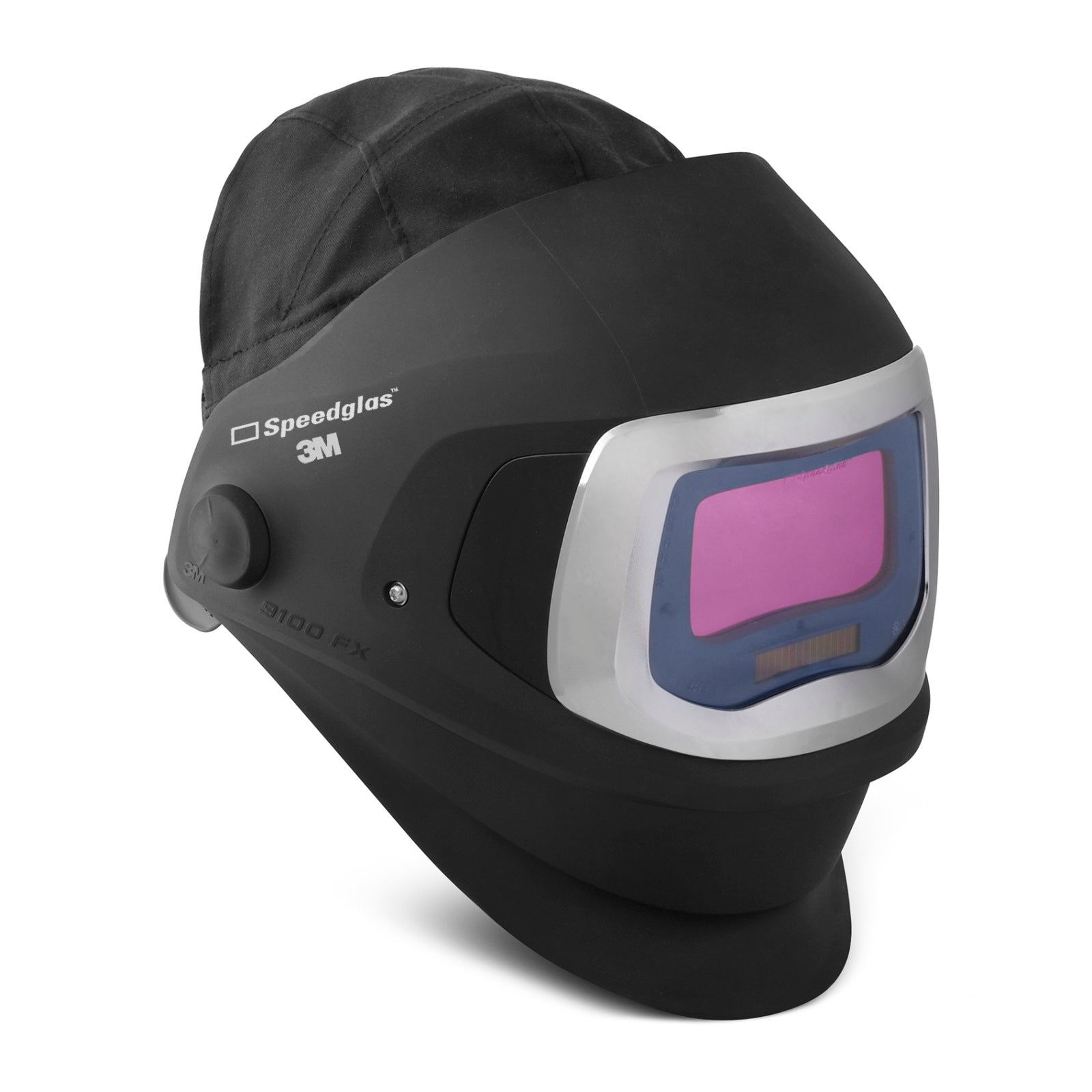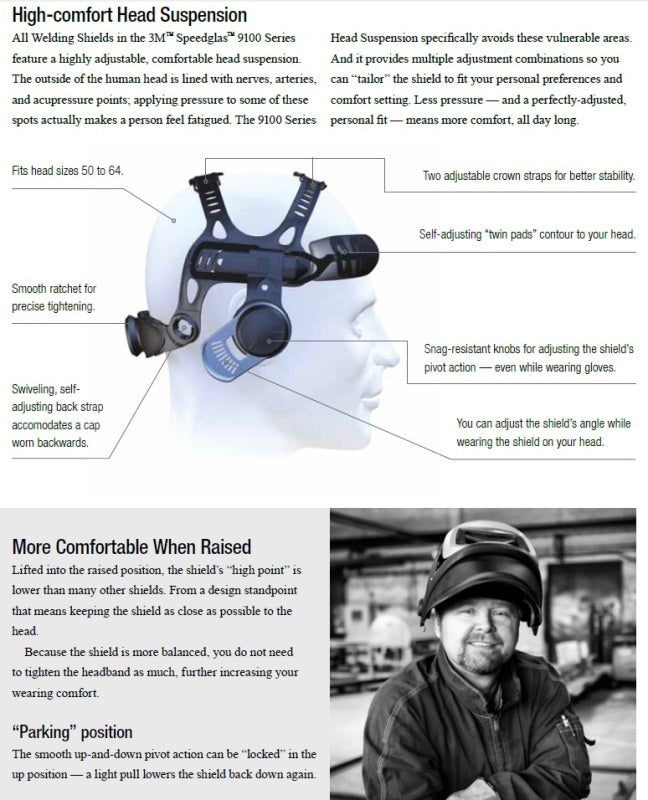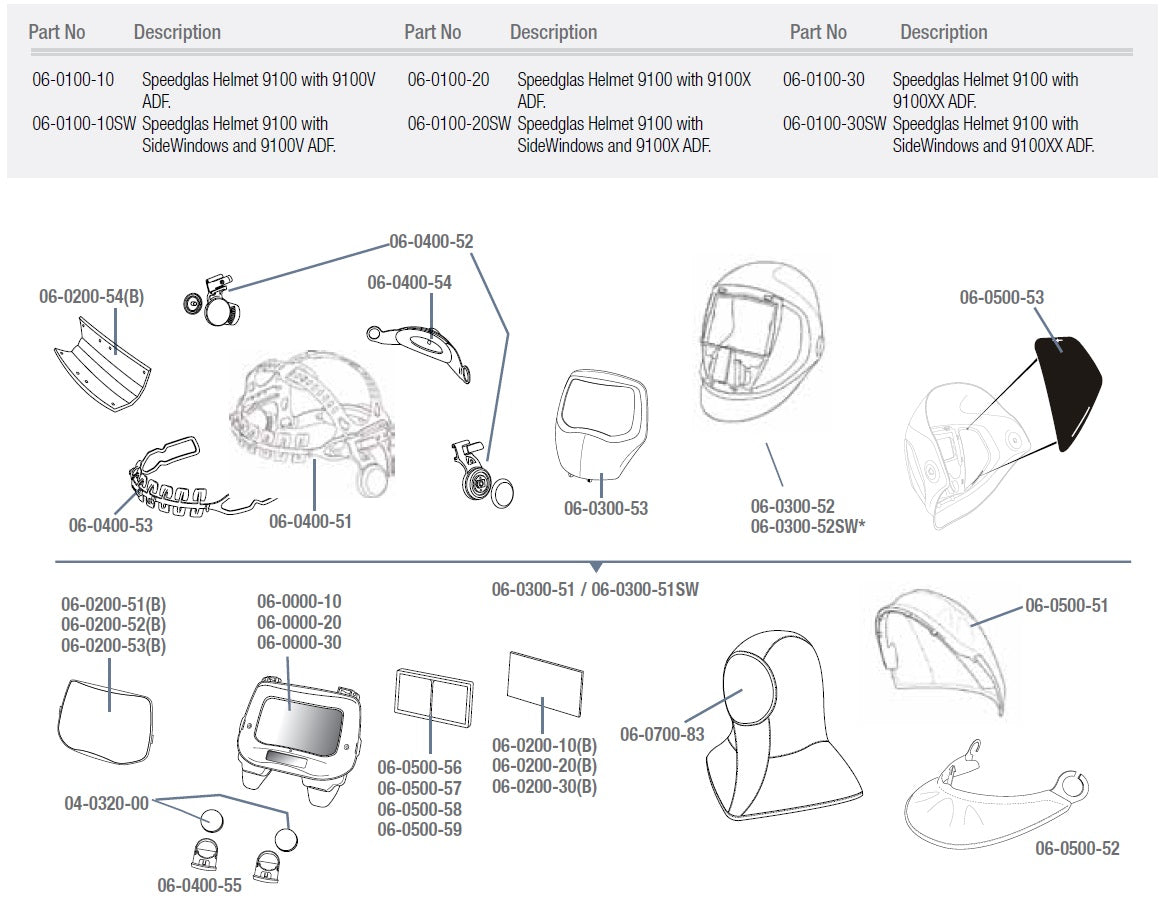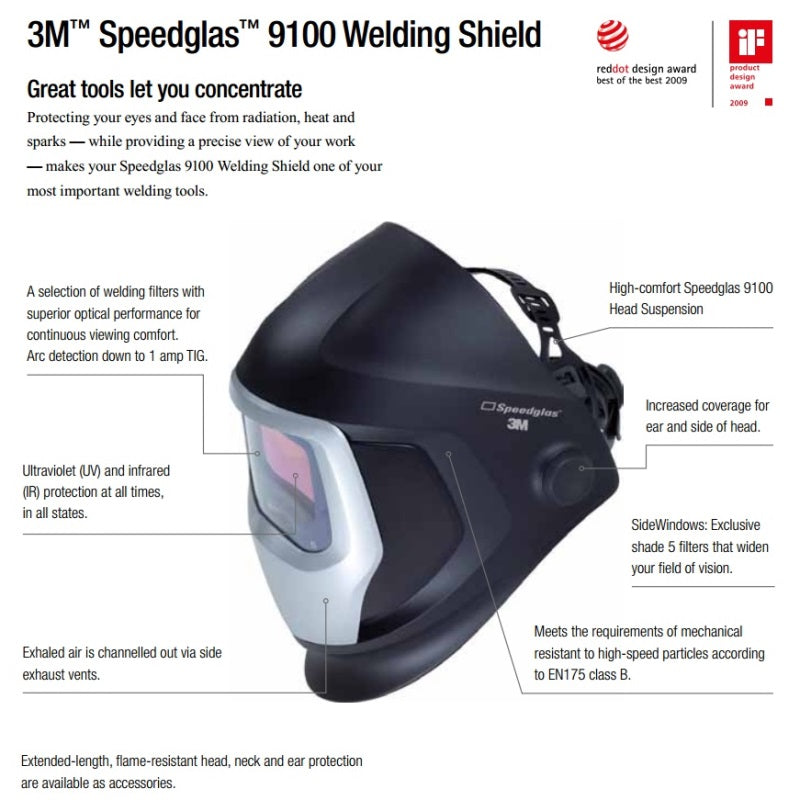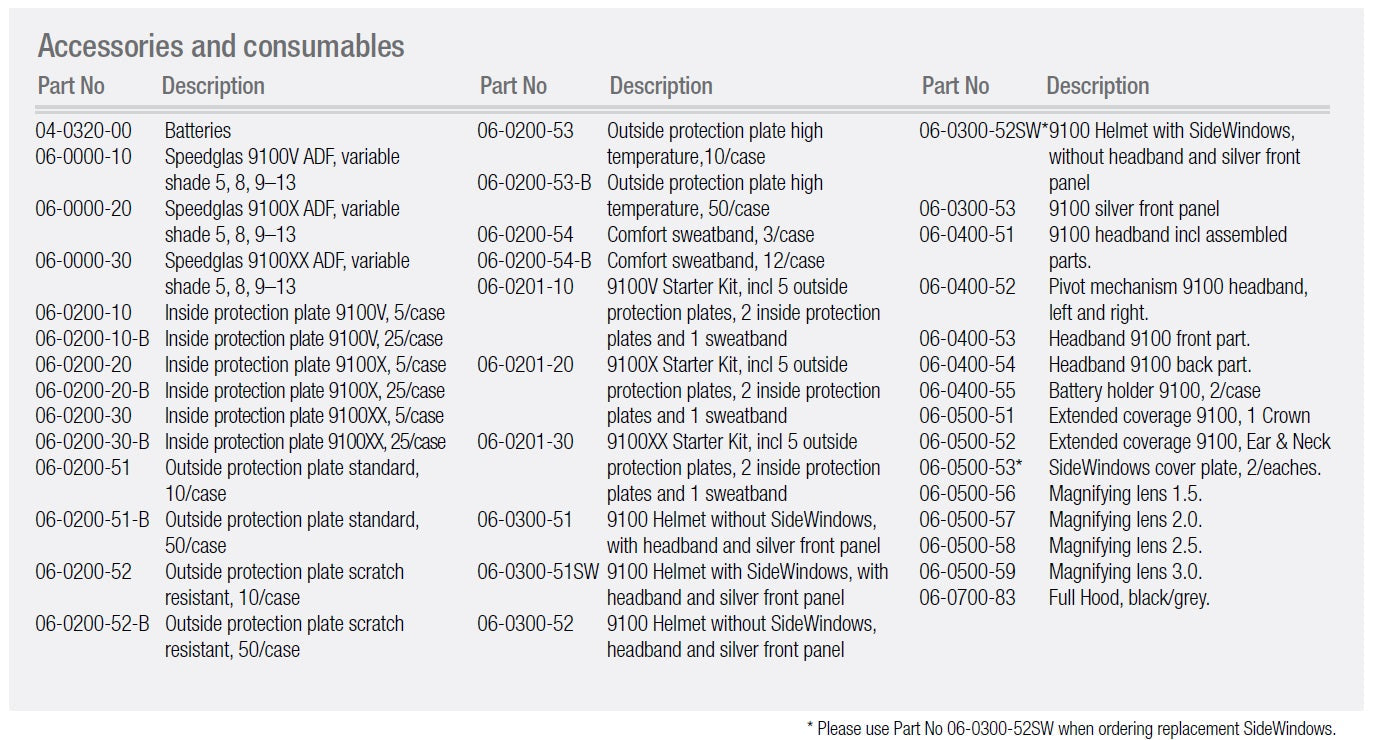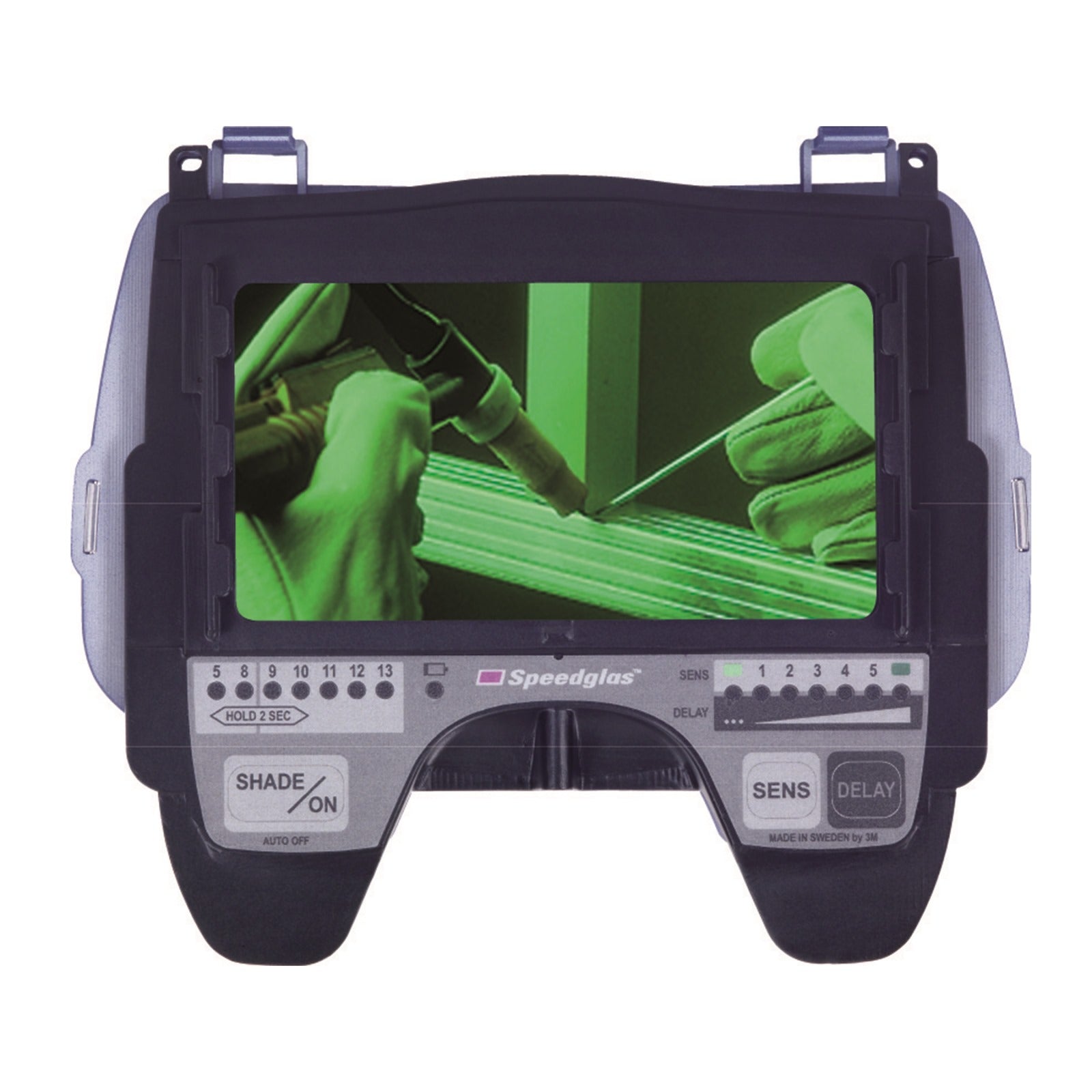 3M Speedglas 9100X with Side Window Welding Helmet (06-0100-20SW)
WARNING: Cancer and Reproductive Harm - www.P65Warnings.ca.gov
Brand New 3M Speedglas 9100X Autodarkening, (06-0100-20SW) With Side Windows Electronic Welding Helmet.
Comes with full 24 month factory warranty.

Speedglas Welding Helmet - 9100X Auto Dark Lens Viewing area 9.12 sq in.
The comfort of the Speedglas 9100 welding helmet is the result of extensive research and development processes. We consulted with international experts in ergonomics and anatomy to ensure that we would produce the most comfortable and protective welding helmet ever.
Welders are delighted to see all the filter options: A grinding shade 3. Gas welding shade 5. Micro-plasma welding shade 8. Arc welding shades 9 through 13.
Sensitivity settings for normal welding to low-amp inverter TIG welding, and even lowsensitivity setting for when other welders are working nearby.
More versatility, greater optimization and more user satisfaction.
Speedglas 9100 Helmet Features
The helmet is made from a lightweight, but durable material that meets the mechanical strength requirements of En 175 level &quotB&quot and Ansi Z87.1-2003.
Heat reflecting silver front.
Increased coverage for lower neck from heat and welding sparks.
Increased coverage for ear and side of neck.
Speedglass 9100X Auto Dark Lens Features
Viewing area 9.12 sq in.
Magnification made easy. The new magnifying lens holder, on the inside face of the welding helmet, makes lens installation easier and more adjustable.
Seven user selectable dark shades: shade 5 for gas welding/cutting, shade 8 for microplasma and low amp TIG welding and shade 9 to 13 for most other types of arc welding.
The tack welding comfort mode, uses an intermediate light state (shade 5). If a follow-up arc is not struck within two seconds, the welding filter switches to the normal light state (shade 3). The comfort mode may help reduce eye fatigue resulting from the eye constantly needing to adjust to differing light levels during tack welding.
The delay function allows the user to set the dark-to-light switching time.
Sensitivity of arc detection can be adjusted to provide reliable switching for a wide range of arc welding processes, amperages and situations. And you now can &quotlock-in&quot any shade: the light shade for grinding or other non-welding activities, or one of the dark shades--to have it function as a passive welding filter.
Comes complete with * Speedglas 9100 welding helmet with 9100X auto dark lens * Helmet storage bag * Speedglas welding beanie
The Inside And Outside Cover (Protection) Lenses For No Additional Shipping At Time Of Helmet Purchase.
06-0200-51 Outisde Lens Pkg Of 10
06-0200-20 Inside Lens Pkg Of 5
MPN: HOR06-0100-20SW
UPC: 051135893562