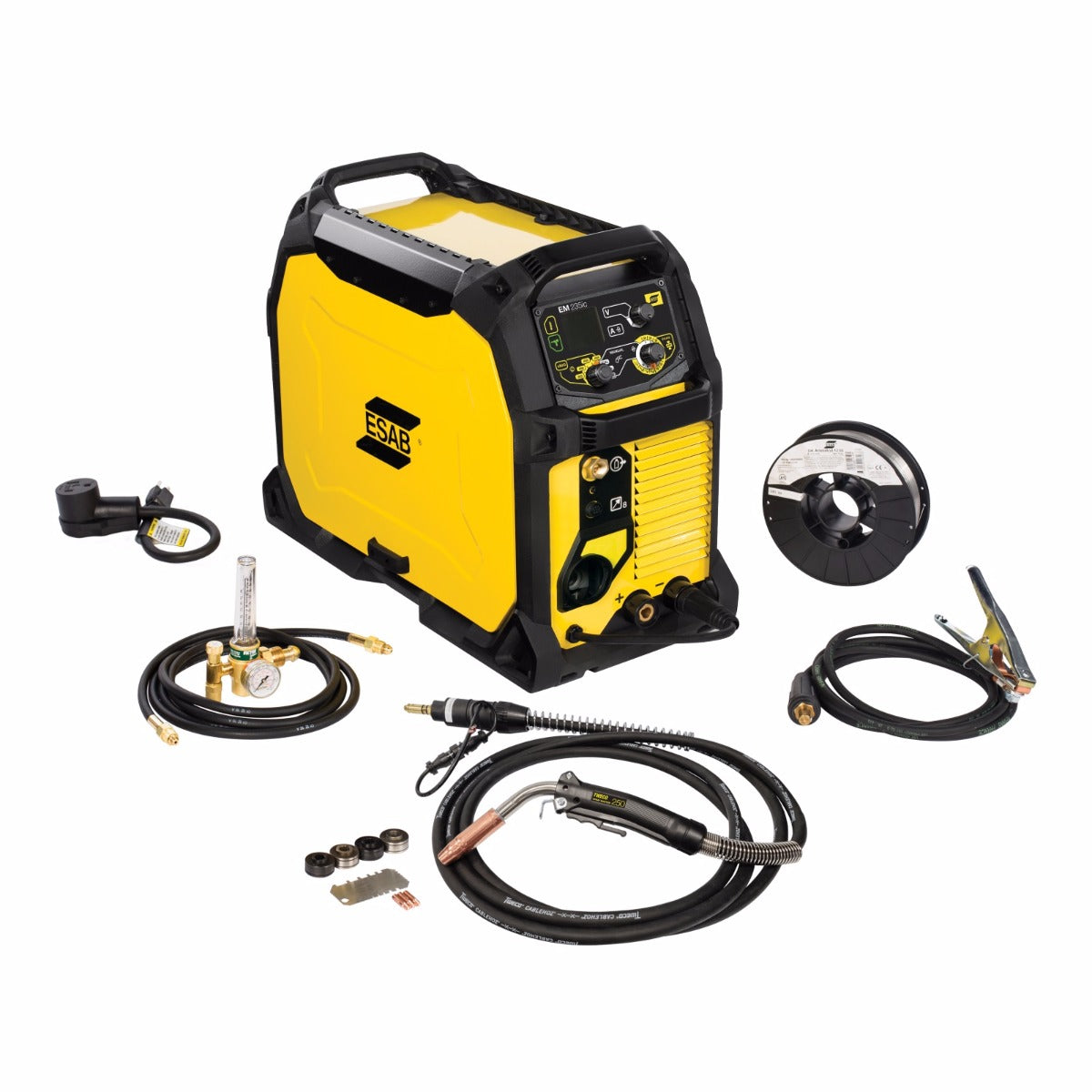 ESAB Rebel EM 235ic MIG Welder (MIG ONLY) (0558012700)
ESAB has discontinued the Rebel EM 235. The suggested replacement is the Rebel EMP 235 (0558012702).

The ESAB Rebel EM 235ic MIG Welder has a similar look to the Rebel 215 units, but packs more power for those demanding applications. The Rebel units feature sMIG technology, an exclusive, dynamic arc control that constantly monitors complex arc characteristics adapting to your technique to provide a smooth and superior weld. The Rebel features 2 modes: basic and advanced. Basic mode allows you to set wire diameter and material thickness & you're ready to pull the trigger. The advanced mode gives you full control over all arc characteristics. The research and technology put into this machine is truly astounding (you can even access your correct consumable part numbers and user manual on the 4.3" LCD screen).

This Rebel is the EM model and is only capable of MIG welding. The EM model does NOT include Inductance, Burn-Back, Voltage Trim, or Pre-Flow/Post-Flow controls - if you need these, you need the EMP 235 version.

Features
• sMIG technology
• 110V/230V Dual Input Voltage
• Weld parameter storage
• 4, 8, and 12 inch spool capable

Quick Specs
• Input Power: 110V/230V
• Current Range: 5-150A (120V), 5-250A (230V)
• Wire Diameter Capacity: .023"-.045"
• Weight: 53lbs
• Max Plate Thickness: 1/2"
• Dims: 26.5" H x 19.5" L x 11.5" W
• Warranty: 3 years on power source, 1 year on torch

Comes Complete With
• Rebel EM 235ic Power Source (MIG ONLY)
• 15-foot Tweco Spraymaster 250 MIG gun
• 10-foot Tweco ground clamp with leads
• Victor argon flow gauge regulator with 12.5-foot gas hose (0781-2743)
• ESAB 70S-6 .035 10-lb spool of wire
• Spare nozzle (22 series), diffuser , and 2 contact tips
• Drive Rolls: .023/.030 smooth (7977036) | .030/.035 V-knurled (7977732) |.045 V-knurled
• Material thickness guide
• 120V and 230V plugs

The optional Tweco Spool Gun (1027-1398) must be purchased separately.
MPN: ESB-0558012700 (EM Model)
UPC: 662067959174
Phase: Single Phase