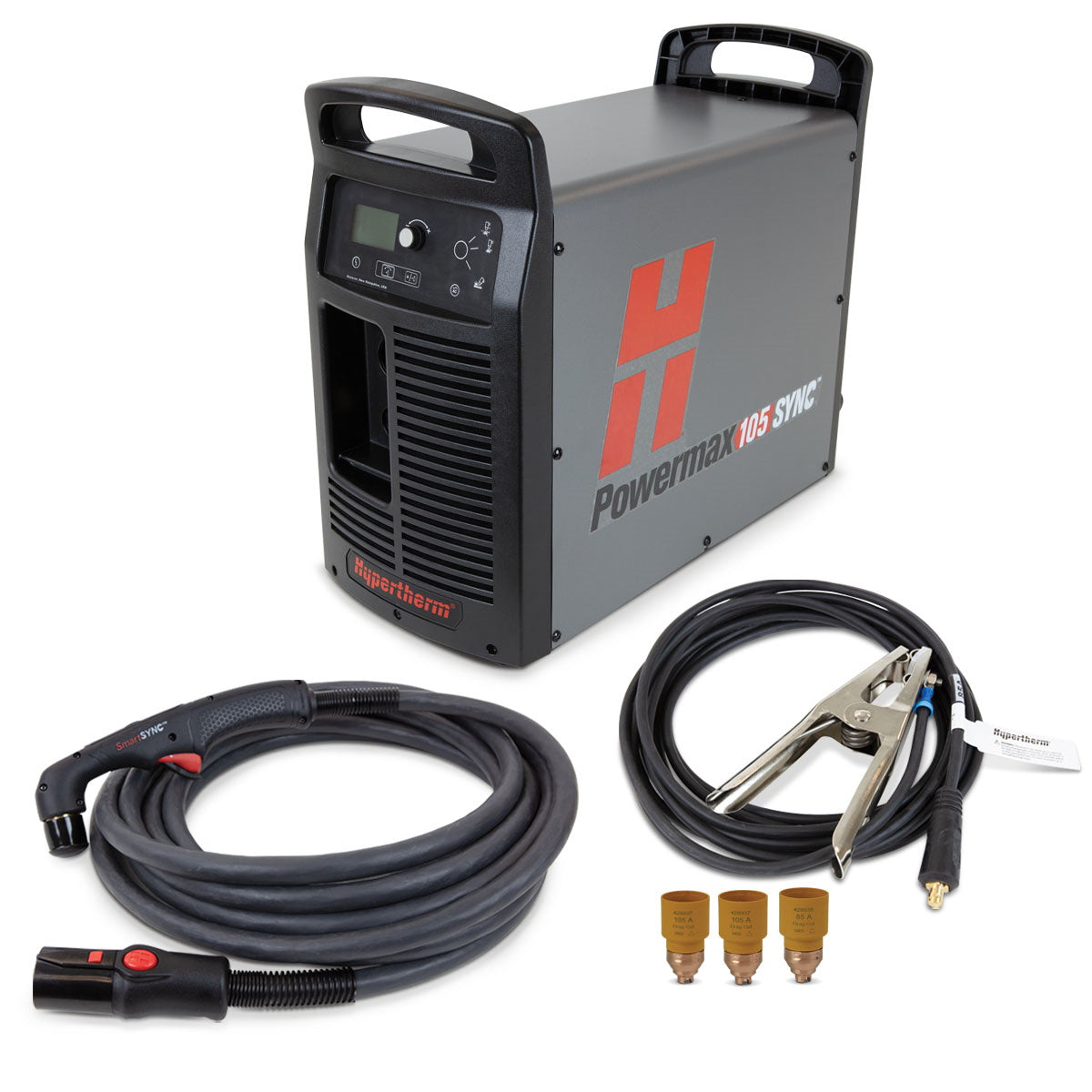 Hypertherm Powermax 105 Sync Plasma Cutter w/50ft Hand Torch (059626)
WARNING: Cancer and Reproductive Harm - www.P65Warnings.ca.gov
The Powermax105 SYNC is a next-generation, professional-grade air plasma system that dramatically simplifies system operation for cutting and gouging up to 32 mm (1-1/4″). Features automated system process set-up via advanced RFID-enabled SmartSYNC torches, and a revolutionary single-piece cartridge consumable that provides trackable utilization data. The Powermax105 SYNC maximizes productivity through reductions in downtime, optimized cut quality performance, and streamlined consumable inventory management. Sync systems contain an end-of-life consumable detection on the torch and the power source, letting the user know when to properly change the cartridge. The cartridge also retains its end-of-life status so it can not be re-used improperly.
This particular model does NOT include a CPC port for automated hookup.
Smart Sync Torch Features
Internal Cap Sensor
- confirms the cartridge is installed correctly.
Cartridge Reader
- reads information on the RFID chip and relays it to the power source.
LED
- visual indicators on the handle show system ready state.
7-Step Amperage LED
- allows user to select one of seven preset values.
Torch Lock Switch
- allows consumable changes without turning off the power supply.
Safety Trigger
- protects the operator from accidental activation.
Fiber Reinforced Handle
- ensures long life operation and protection if dropped.
Spring Strain Relief
- protects the torch lead connection to the torch handle.
Abrasion Resistant Torch Lead
- protects the lead when being dragged over rough surfaces.
End-of-Life detection is disabled when one of the following occur
• A Fine Cut hand cutting cartridge is installed
• The amperage is set below 40 amps for any type of cartridge
• The output amperage is set below 55 amps and no communication between the cartridge and system
SYNC Features
• Color Coded Single-Piece Cartridge Consumable (Hand, Mechanized/Stand Off, Gouging, and FlushCut/HyAccess)
• Radio Frequency Identification (RFID)
• Consumable Life Data Tracking
Quick Specs
• Input Voltage: 200-600V |
3 Phase ONLY
| 50-60 Hz
• Duty Cycle: 400V - 80% @ 105A
• Power Source Weight: 88 lbs
• Dimensions: 23.3" L x 10.8" W x 20" H
• Travel Speed: 20 ipm on 1-1/4" Metal
• Recommended Air Pressure: 85 psi (5.9 bar) | 460 scfh (7.7 scfm)
• Warranty: 3 years on Power Source | 1 year on Torch
Includes
• Powermax 105 Sync Power Source
• 75 Degree Smart Sync Torch with 50ft lead and 50ft work clamp
• (2) 105A Drag and (1) 85A Drag Cartridges
• Operator and Safety Manuals
MPN: HYP059626
UPC: 00662310498412
Phase: Three Phase
Download Product Spec Sheet