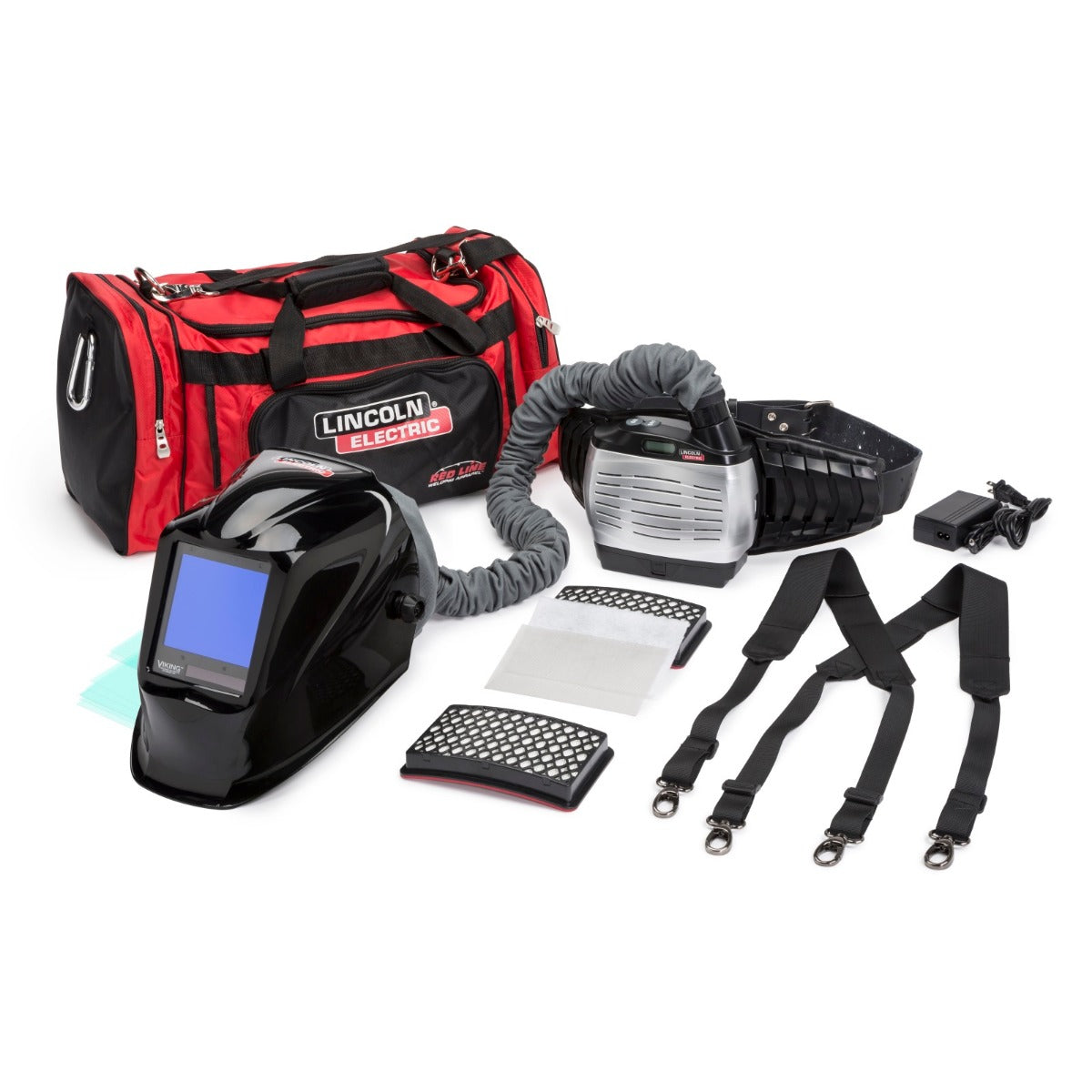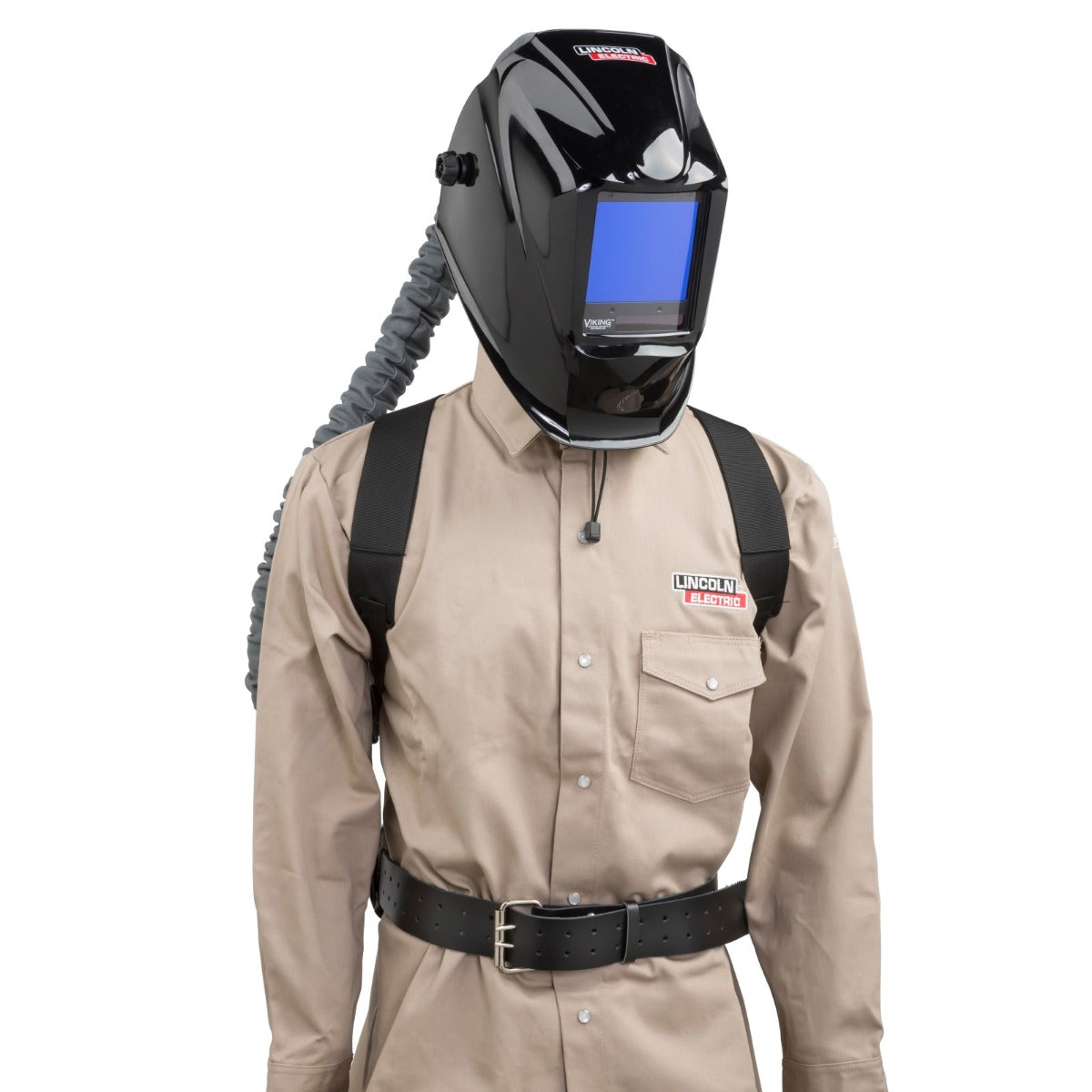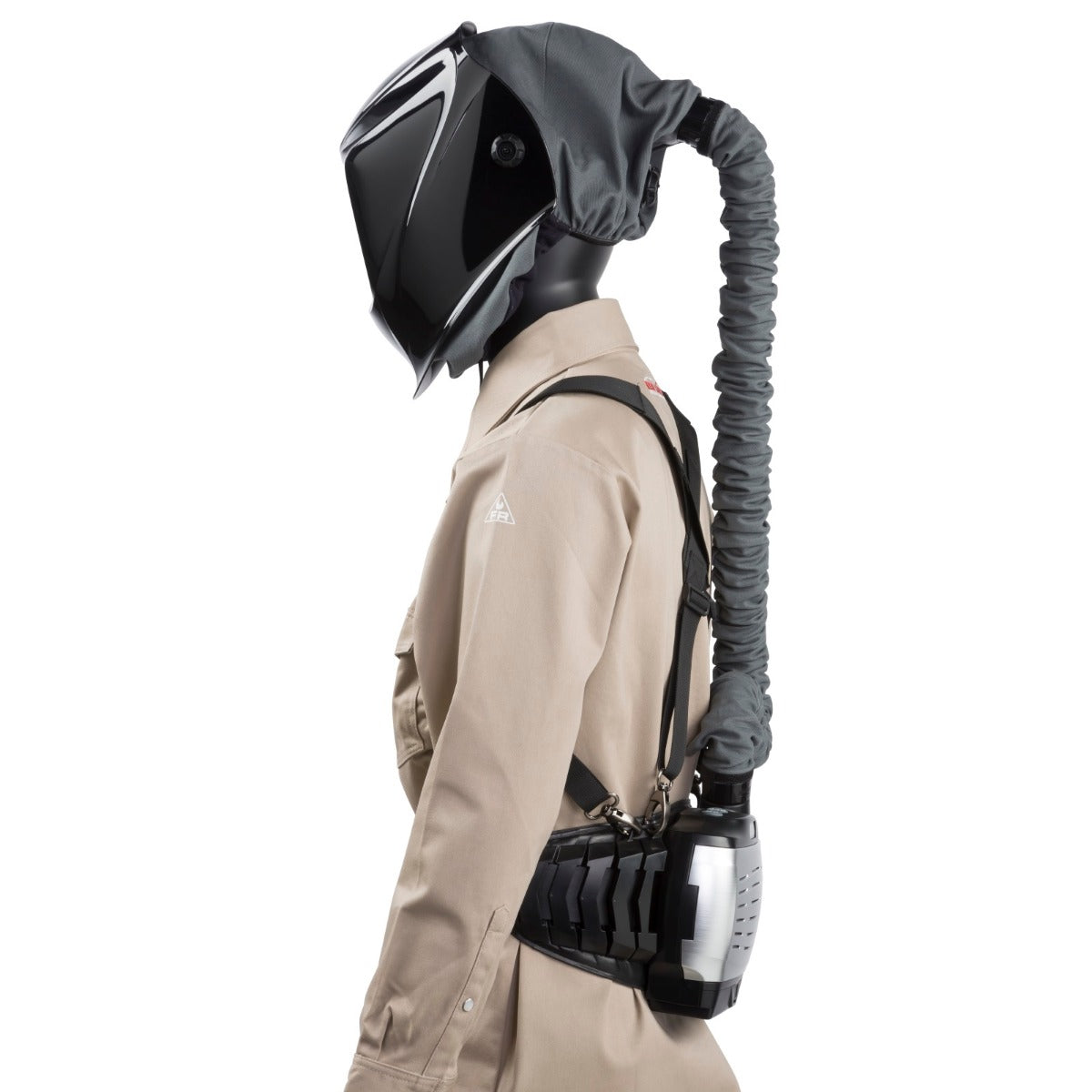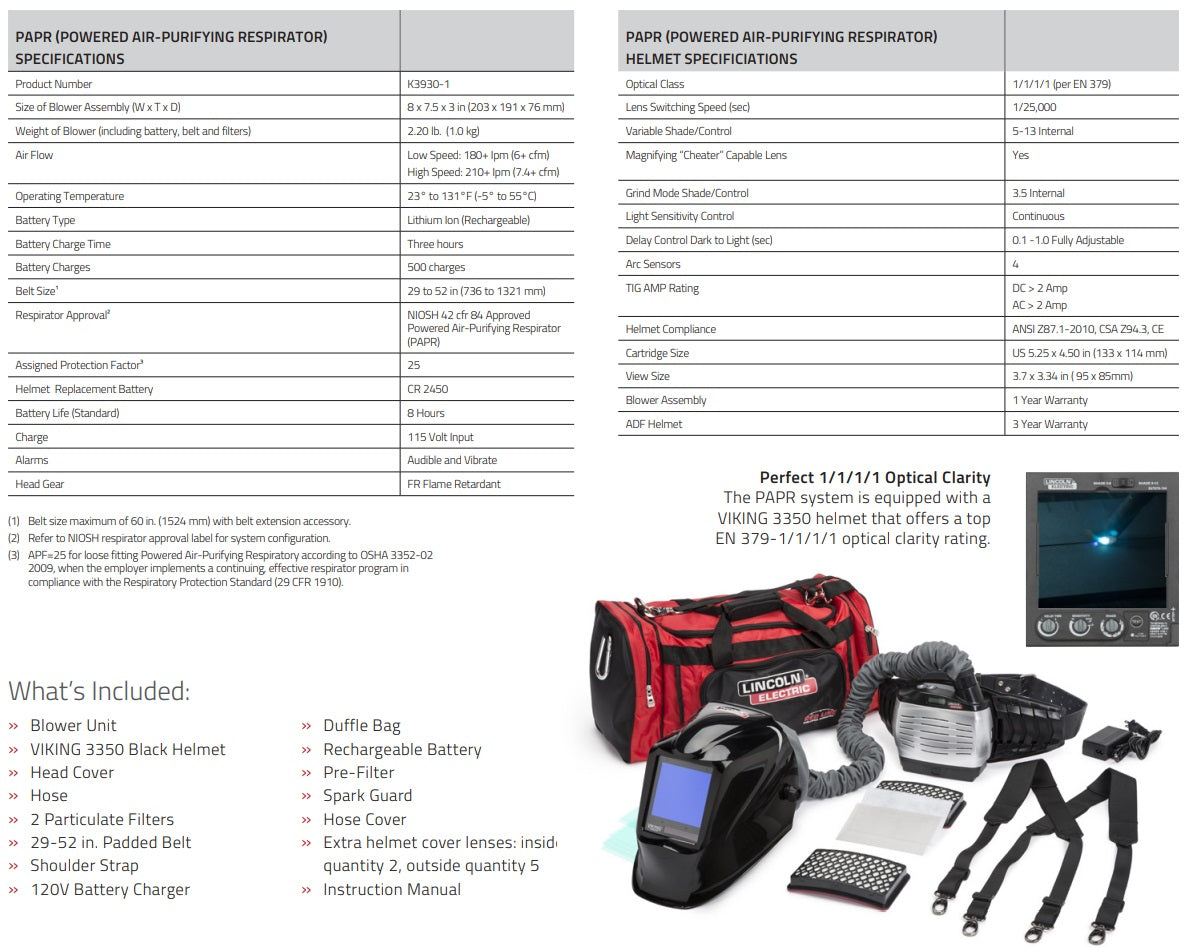 Lincoln PAPR System with 3350 Black Welding Helmet (K3930-1)
WARNING: Cancer and Reproductive Harm - www.P65Warnings.ca.gov
The Lincoln PAPR system (K3930-1) is a complete air purifying respiratory system that allows the user to breathe clearly for up to eight hours. The blower unit features two-speeds to deliver air through the hose into a modified Viking 3350 helmet which has 4C lens technology and a 1/1/1/1 optical rating. The adjustable baffling system inside the helmet directs air away from the eyes to prevent them from getting dry. The blower unit weighs only 2.2 lbs and features audible/vibrating alarms to signal low battery levels.
Better Clarity, Real Color View
• Now you can make a good view even better. Upgrading with 4C technology preserves the existing 1-1-1-1 optical clarity rating, but improves visibility by reducing the lime green tint.
Easy On The Eyes
• Improved visibility and less eye strain means greater comfort for the welder. This combined with an improved view of the weld puddle adds up to better welds.
Wide-Screen View
• 4C technology enables you to not only see better, but also see more. The large viewing area gives you a full range of vision in relation to the welding area, which enhances operator control.
Increased Battery Life
The longer you can see clearly, the more you can weld. And more welds mean higher productivity. Improvements to the ADF's circuitry enables more performance from the battery. Now you can keep welding, increase your productivity and get more from your helmet lens.
Lens and Helmet Features
• 4C Lens Technology improves visibility and reduces eye strain
• 1/1/1/1 Improved Optical Clarity & Enhanced Color Recognition
• 3 Year Warranty
• Pivot Style Headgear
• Large U.S. 5.25" X 4.5" Cartridge Size
• Continuously Variable 5-13 Shade with Internal Control
• Continuously Variable Sensitivity & Delay
• Grind Mode
• Magnifying Cheater Lens Capable
• 4 Arc Sensors
• Solar Cells with a replaceable Lithium Battery
• 3.74" X 3.34" (12.50 sq inches) View Size
Includes
• Blower Unit
• Viking 3350 Helmet
• Head Cover
• Hose
• 2 Particulate Filters
• 29-52 Inch Padded Belt
• Shoulder Strap
• 120V Battery Charger
• Duffle Bag
• Rechargeable Battery
• Pre-Filter
• Spark Guard
• Hose Cover
• Instruction Manual
Please see "specs" for full manufacturer specifications for the entire system.
MPN: LINK3930-1
UPC: 15082582351