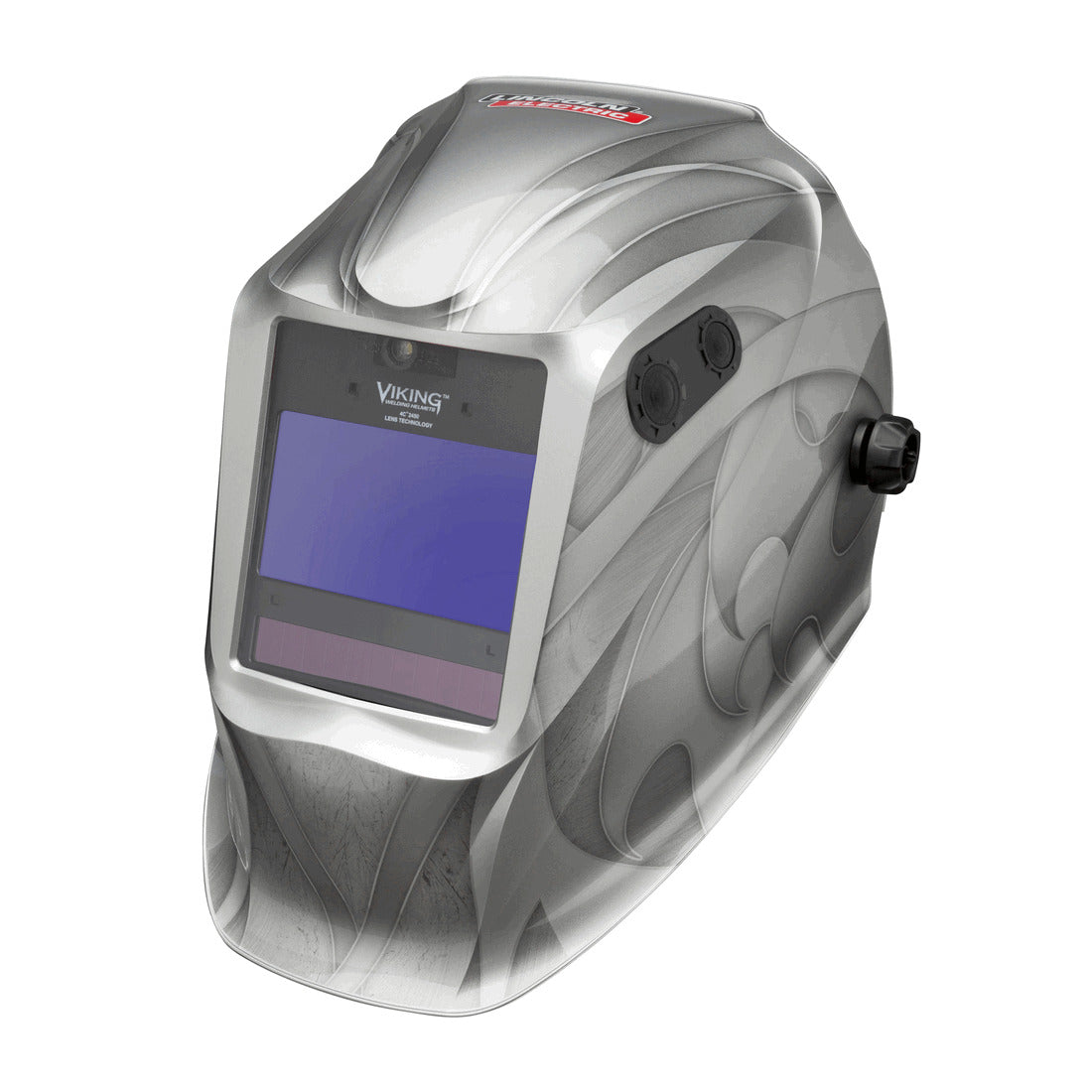 Lincoln Viking Heavy Metal 2450 ADV Series Helmet (K3029-5)
WARNING: Cancer and Reproductive Harm - www.P65Warnings.ca.gov
Viking 2450ADV Series
The upgraded Viking 2450ADV, our newest in the lightweight premium helmet series, offers an excellent blend of optics, comfort & versatility, with new technologies to improve productivity.
Modular LED Light - Modular LED light improves visibility during arc-off time, while maintaining a low profile that's easily integrated into the shade cartridge
Digital User Interface - Moisture and abrasion resistant push buttons make it easy to set the shade, sensitivity, delay, and mode.
Industry Leading Optics - 4C® Lens technolory and perfect 1/1/1/1 optical clarity eliminate imperfections and color saturation to create the clearest view of the base material, arc, and puddle.
Extra Large Viewing Area - The 9.3 square inch auto darkening lens provides a large field of view to increase versatility and operator control
3 Year Warranty - Protects your investment for 36 months from date of purchase
See Clearly Now
4C ADF Technology improves the performance of the lens in the four most important categories to the welder:
Clarity - Optical clarity 1/1/1/1
Color - Real color view
Carat - Lightweight
Cut - Even shade from any angle
The 4C Lens Technology improves visibility and reduces eye strain by minimizing the traditional lime green coloring in the helmet view screen. 4C Technology is ideal for a range of industries such as general fabrication, power generation, shipbuilding, structural, offshore, and pipeline that use multiple welding processes, including Stick, MIG, and TIG. Whatever the task at hand, 4C technology gives you a clear view to productivity and quality.
Digital Controls - Simple, durable, and precise controls allow the operator to easily and efficiently switch between modes and set the shade, sensitivity, and delay.
Modular LED Light - Integrated into the ADF cartridge and is powered by a separate AA battery to be easily removed and replaced without changing the helmet profile
Premium Optics - 4C Lens Technology, 1/1/1/1 Optical Clarity, and large 9.3 sq. inch viewing area
All Day Comfort - Innovative X6 Headgear distributes weight, reduces pressure, and optimizes balance
Increased Productivity - External low profile grind control and LED on/off button
Professional Versatility - Optimized performance for all welding/cutting processes and environments
3 Year Hassle Free Warranty
Viking 2450ADV Welding Helmet, Bandana, Helmet Sticker Sheet, 5 Outisde Cover Lens, 2 Inside Cover Lens
MPN: LINK3029-5
UPC: 15082978642
Download Product Spec Sheet