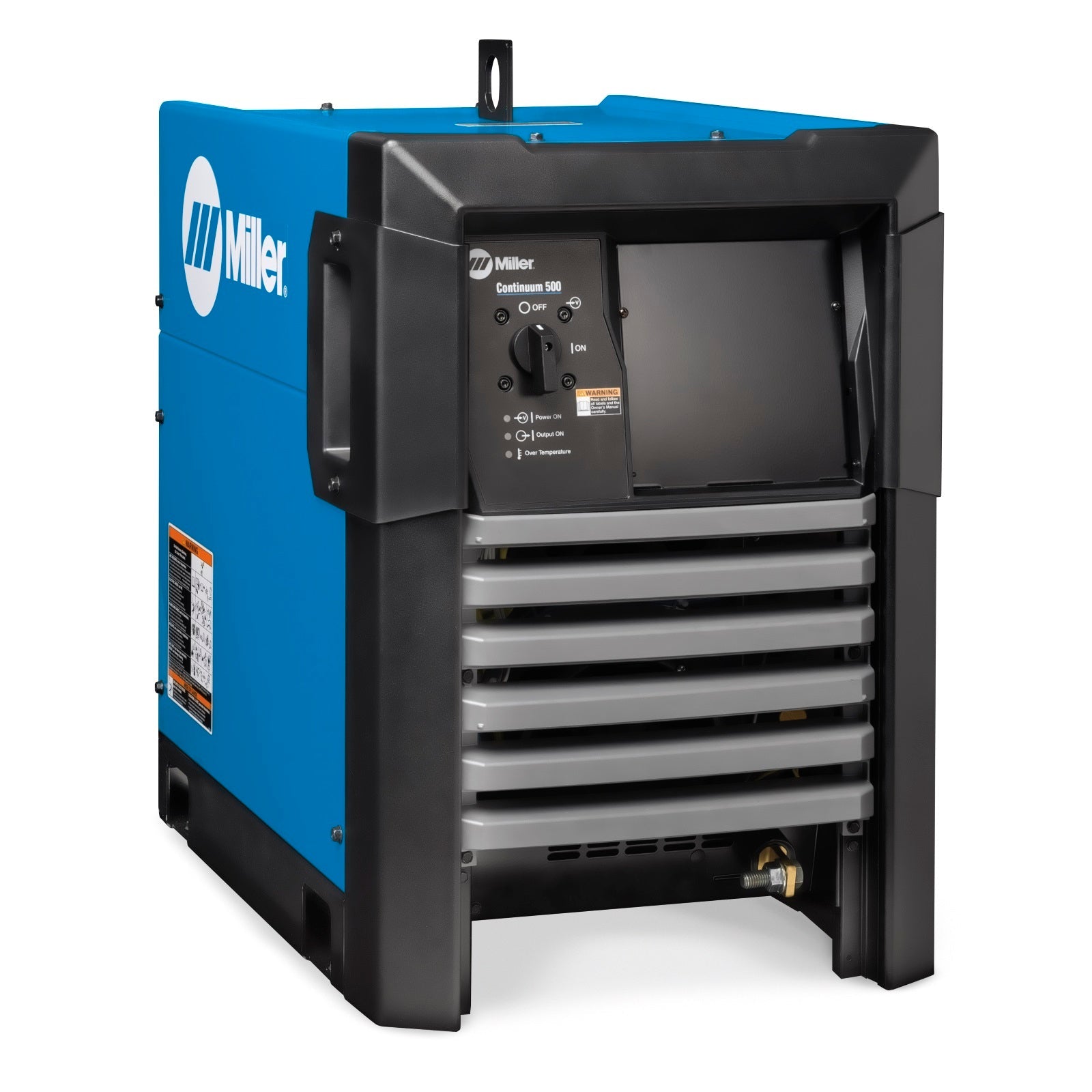 Miller Continuum 500 Advanced MIG System (907640)
WARNING: Cancer and Reproductive Harm - www.P65Warnings.ca.gov
The next generation of Advanced MIG Systems from Miller has arrived. The Miller Continuum 500 Welding System (907640) builds on the proven performance of Axcess while improving productivity through weld quality, ease of use and system modularity. Delivering exceptional arc performance with less splatter and higher-quality welds on both thin and thick metals. Gain a competitive advantage over the competition thanks to the Continuum's ability to make challenging jobs easier. The new design features an easy-to-read LCD display making the system easy to set up and adjust with minimal training. The LCD screen has also allowed Miller to use complete words and numerical values, replacing confusing codes.

Superior Arc Performance:
Improved Accu-Pulse provides less spatter, better arc control and less heat input. Very forgiving with changes in stick-out. Improved MIG performance offers consistently smooth arc starts which reduce spatter. Improved RMD is designed for thin materials and gap filling with very low spatter. New High-Deposition MIG process, typically used for thicker material and larger welds, provides lower heat input and higher deposition rates than standard spray transfer.

Easy to set up and adjust with minimal training:
8 program/memory buttons and USB functionality for updates, cloning and more mean that you'll have access to updates and changes in technology. Browser-based connection make viewing and adjusting machine parameters, configuring machine settings and setting locks and limits a breeze.

LCD Display:
New user interface makes the system easy to set up and adjust with minimal training. Shows complete words, graphics and numeric values.

All-new feeder design:
Faster motor response provides the best arc starts with the least amount of spatter. Precise feeding operation for stable arc performance.

Balanced-pressure drive-roll design and tensioners:
Feed wire in its truest and straightest form for better feedability and to extend consumable life.

Tool-less lockable rotatable drive:
Allows operator to rotate the drive, eliminate severe bends in the wire feeding path which extends gun-liner life and aids in feeding difficult wires.

Modular to adapt to a variety of weld cell configurations:
Flexible user interface location (power source, feeder, remote operator interface) allowing you to easily add process and programs. Wire feeder is easily configurable for standard spool sizes, 60-pound spools or bulk-feeding systems.


MPN: MIL907640
UPC: 715959627238
Phase: Three Phase
Download Product Spec Sheet