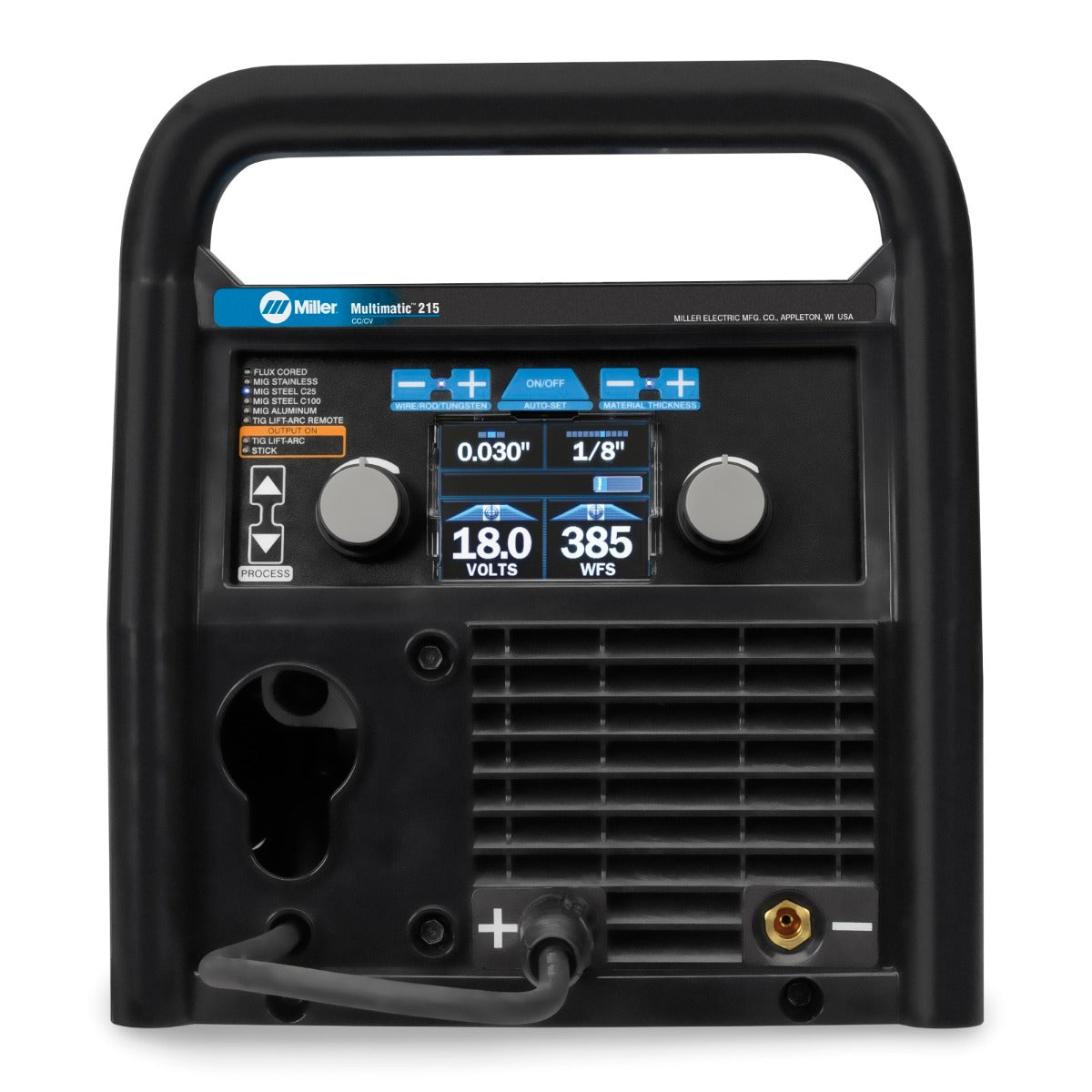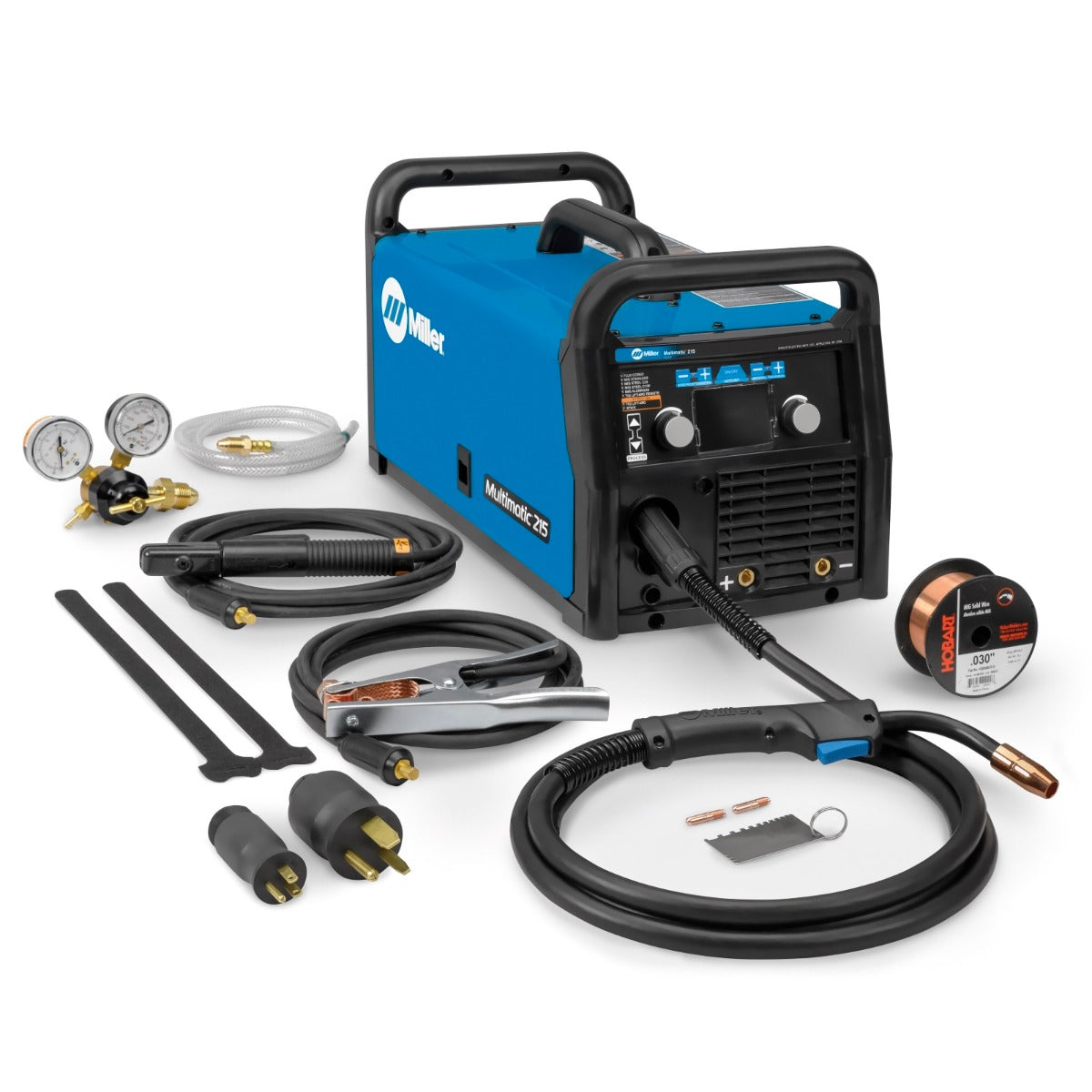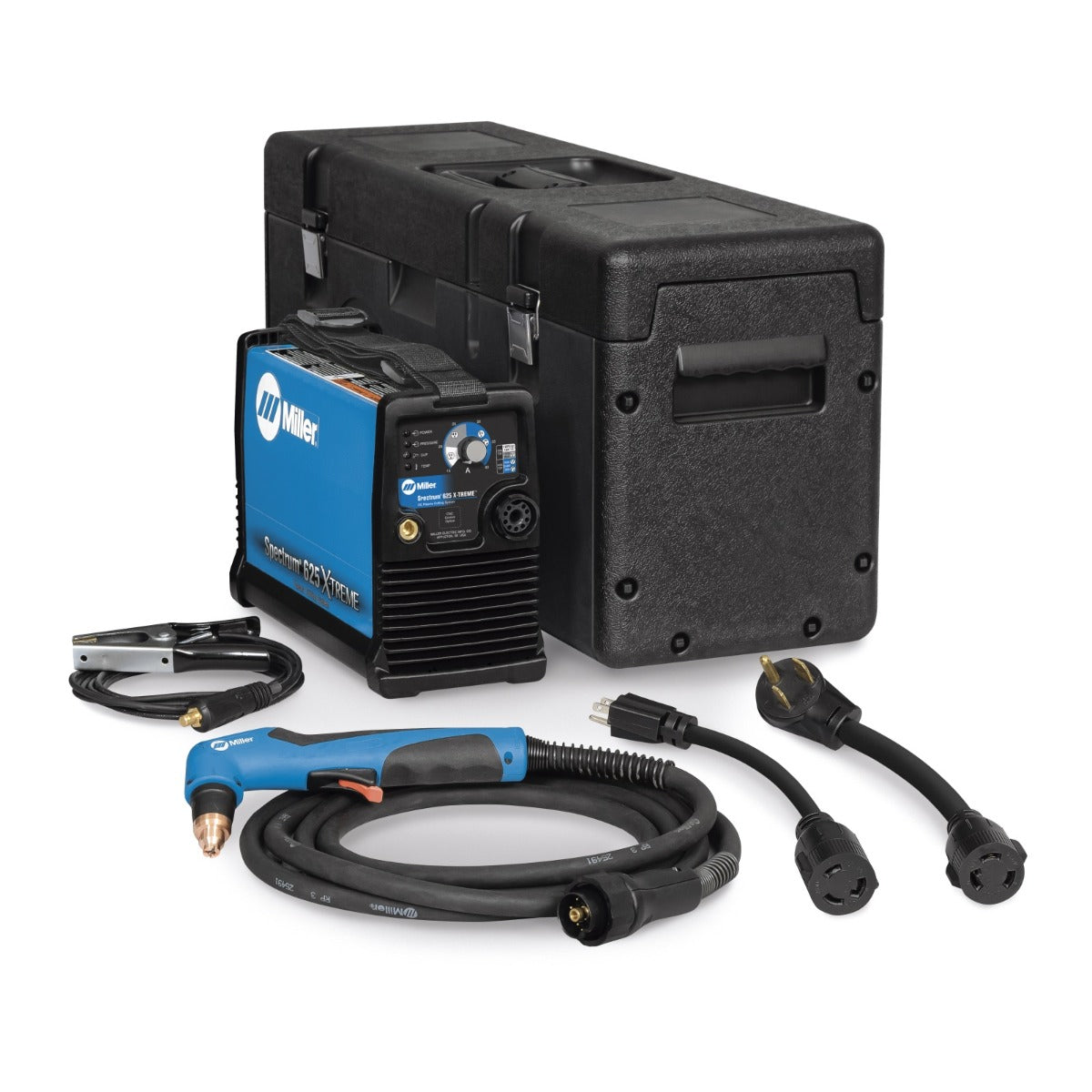 Miller Multimatic 215 and Spectrum 625 Dream Bundle (907693)
WARNING: Cancer and Reproductive Harm - www.P65Warnings.ca.gov
We created the Miller Multimatic and Spectrum dream bundle for the small fab shop or home hobbyist wanting to hit the ground running. With 2 machines and 8 different accessories, this package will make your garage the envy of the neighborhood!
The Miller Multimatic 215 Auto-Set Multiprocess Welder (907693) is the latest offering in Miller's line of go anywhere, do anything machines. If you're a fan of Miller machines, you'll have noticed that they've gotten smaller and more powerful in recent years. The Multimatic 215 is based off the same smaller, lightweight inverter-based footprint of the recent Millermatic machines and will once again return Miller Electric to the dominant position among the multi-process options in the marketplace.

Advanced Auto-Set
A breakthrough control that automatically sets your welder to the proper parameters. Advanced Auto-Set offers all-in-one MIG minus the guesswork! Simply set the material type and gas, set the wire diameter, set the material thickness and start welding!

Welds Thickest Material in its Class
With the highest output in its class, the Millermatic 211 can weld up to 3/8 in. in a single pass.

Inverter Technology
Inverter Technology offers more power in a lighter package; a nearly 50% weight reduction means this portable powerhouse weighs in at only 38 lbs. Inverter Technology also produces a faster-reacting arc that's more forgiving of variations in travel speed and length.

Smooth-Start
This technology provides a smooth, spatter-free start. The best starting machine in the small MIG category! No more pop-gun starts or spatter to clean up.

Durable Cast Aluminum Drive System
Incorporates dual groove quick-change drive roll and spring-loaded tension arm with calibrated tension knob, all designed to make setup easier and faster.

Manual Mode
Gives you the flexibility to manually set the machine when welding aluminum, stainless steel or anytime you want to set your own parameters on mild steel.

Multi-Voltage Plug
Miller's Multi-Voltage Plug allows you to connect to common 120 or 240 V power receptacles without the use of any tools; simply choose the plug that fits the receptacle and connect it to the power cord.

Tip Saver' Short Circuit Protection
Shuts down output when tip is shorted to the work, extending contact tip life and protecting internal components from damage. Trigger reset permits quick reset at torch rather than unit.

Comes complete with
• Multimatic 215 power source
• 6 ft (1.8 m) power cord and plug
• 10 ft (3 m), M-100 MIG gun and cable assembly
• 10 ft (3 m) work cable and clamp
• Smith Argon and AR/CO2 mix regulator/flowgauge with hose
• Spool of Hobart .030 in (0.8 mm) solid wire
• Two contact tips for .030 in (0.8 mm) solid wire
• Dual-groove quick-change drive roll for .024 in (0.6 mm) or .030/.035 in (0.8/0.9 mm) solid wire
• Factory-installed gas solenoid valve
• Information/settings chart
• Material thickness gauge #229895

Spectrum 625 comes with
• Spectrum 625 X-treme power source
• 20 ft XT40 hand torch
• Heavy-duty work clamp with 20 ft flexible cable
• 10 ft power cord with MVP plugs (120V, 240V)
• X-Case
• Consumables box with 2 electrodes, 2 tips, deflector, and air fitting

Additional Accessories
• Multimatic 215 TIG Kit (DC Tig Only)
• Cart (301239)
• Spoolmate 150 (301272)
• Multimatic Cover (301262)
• Spectrum Roller Guide (253054)
• Spectrum Consumables Kit (253521)
• 30FX Arcstation (300837)
• 1 Pair of X-Large Mig/Stick Gloves (271889)

This bundle ships via freight truck. Lift-gate service is available at checkout.

MPN: 907693-301337-301272-301239-301262-907579001-253521-253054-279876-300837
UPC: 715959624312
Download Product Spec Sheet