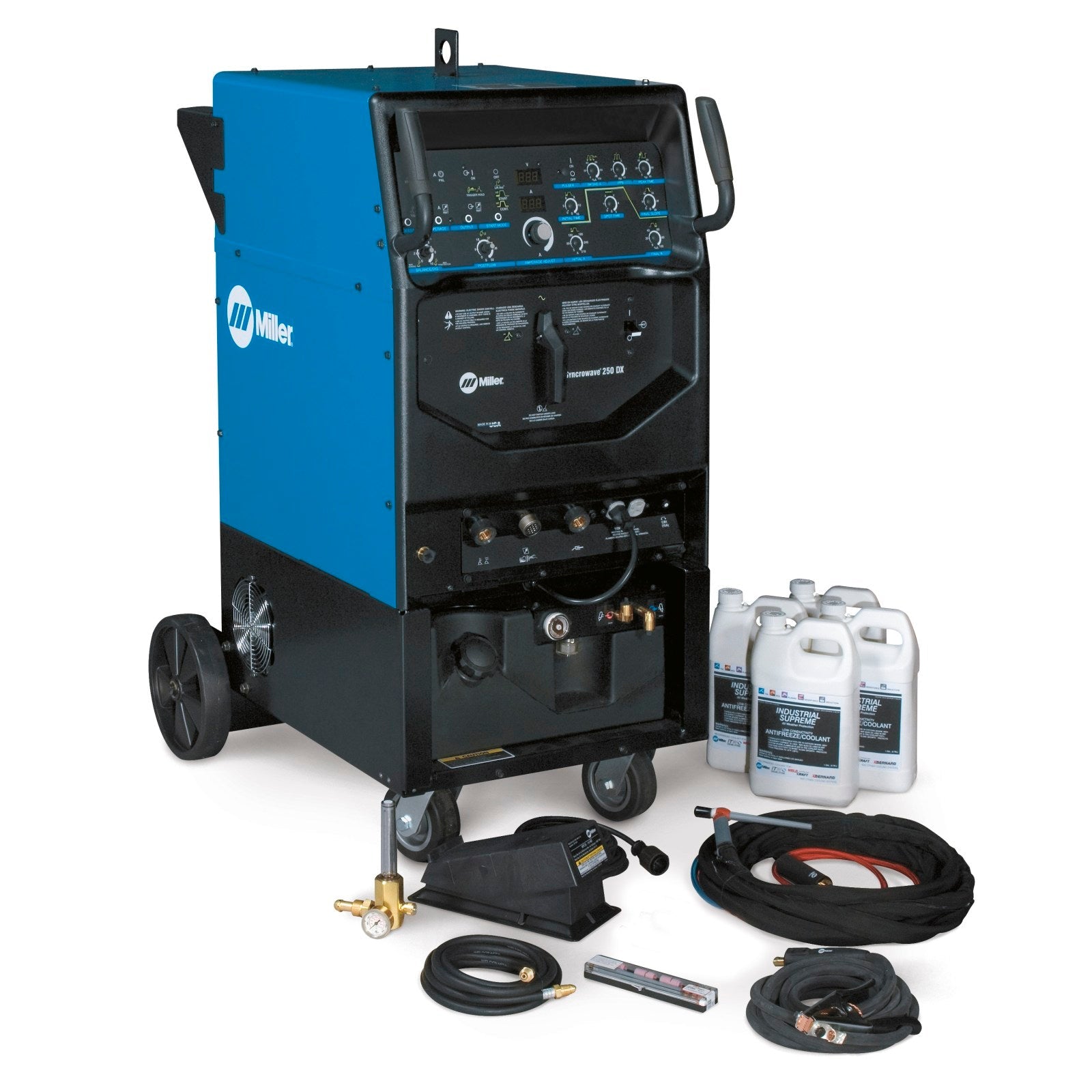 Miller Syncrowave 250 DX TIG/Stick Runner Welder Complete (951117)
The Syncrowave 250 is no longer available. The suggested replacement is the Syncrowave 300 (951829).
Brand New Miller Syncrowave 250 Dx TIG Runner Systemcomplete with 3x coolingCOOLING System And With Torch And 4 Gallons Of Coolant.( 951117 )Same As 951069--Only Difference Is Miller Changed Name Of Coolant
Everything you need to weld, just add cylinder and gas, And TIG Torch Consumables, which are listed in another listing.
Click Here For Complete Spec: Page http://www.millerwelds.com/pdf/spec_sheets/AD4-2.pdf
Comes with full 3 year factory warranty. Picture Of Welder Shows Optional Pulser Module And Sequencer Module, Upper Left Side Of Panel.
Syncrowave 250 Dx

Industry standard - Syncrowave 250 Dx has proven itself time and time again in the most demanding applications. Its industrial design and construction ensure reliable operation for years to come.

Pricing

$ 6252.00


List Price (Us$)

Process

TIG (Gtaw)
Pulsed TIG (Gtaw-P)(optional)
Stick (Smaw)

Applications

Industrial Applications

Precision Metal Fabrication
Maintenance and Repair
Light and Heavy Manufacturing
Fabrication
Aerospace
Shipbuilding
Tube and Pipe
Automotive
Vocational

Specifications

Input Power

Rated Output

250 A at 30 Vac, 40% Duty Cycle
200 A at 28 Vac, 60% Duty Cycle

Welding Amperage Range

Net Weight

Comes Complete With

Syncrowave 250 Dx Base Unit:
Syncrowave 250DX powersource only
International-style connection kit (195 303)
Syncrowave 250 Dx TIGRunner:
Syncrowave 250DX
Coolmate 3X cooler
No. 37 Running Gear
Remote Foot Control
* Completely Assembled *
International-style connection kit (195 303)
Syncrowave 250 Dx TIGRunner with Torch Package Complete:
Includes the TIGRunner Package above completely assembled Plus:
25 ft, 250 amp water-cooled Weldcraft torch
4 Gallons Coolant
Work clamp
10 ft gas hose
Smith Regulator/flowmeter
Cable cover
Ak-4 accessory kit

New! Coolmate 3X cooler option features a 3-gallon cooling system. A flow indicator provides visual indication that the system is working. The Coolmate 3X is also equipped with an external filter to stop any foreign objects from entering the water-cooled torch cable for better flow and longer life.

Syncro Start for customized arc starts allows the operator to choose from three different starting conditions to optimize the application according to tungsten diameter and material thickness.

Squarewave output with Ac balance control features adjustable penetration and cleaning action while increasing arc stability on various aluminum alloys, and helps eliminate tungsten spitting and arc rectification.

Dual digital meters allow for quick and easy viewing of actual and preset values of amperage and voltage.

Last procedure recall automatically recalls the last procedure set-up when switching polarity.

Built-in preflow/postflow provides 0.2 - 5 seconds of preflow and 0 - 50 seconds of postflow.

Built-in consumable storage located on the front panel allows the operator to store and readily access the needed consumables to be more productive.

Fan-On-Demand operates only when needed reducing noise, power consumption, and the amount of airborne contaminants pulled through the machine.

Lift-Arc start provides TIG arc starting without the use of high frequency.

Lvc Line Voltage Compensation
Keeps output of the power source constant regardless of fluctuation in input power+ or -10%.

Adaptive Hot Start for Stick
Automatically increases output amperage at the start of a weld should the start require it and prevents the electrode from sticking and creating an inclusion.
MPN: MIL951117
UPC: 715959389488
Phase: Single Phase