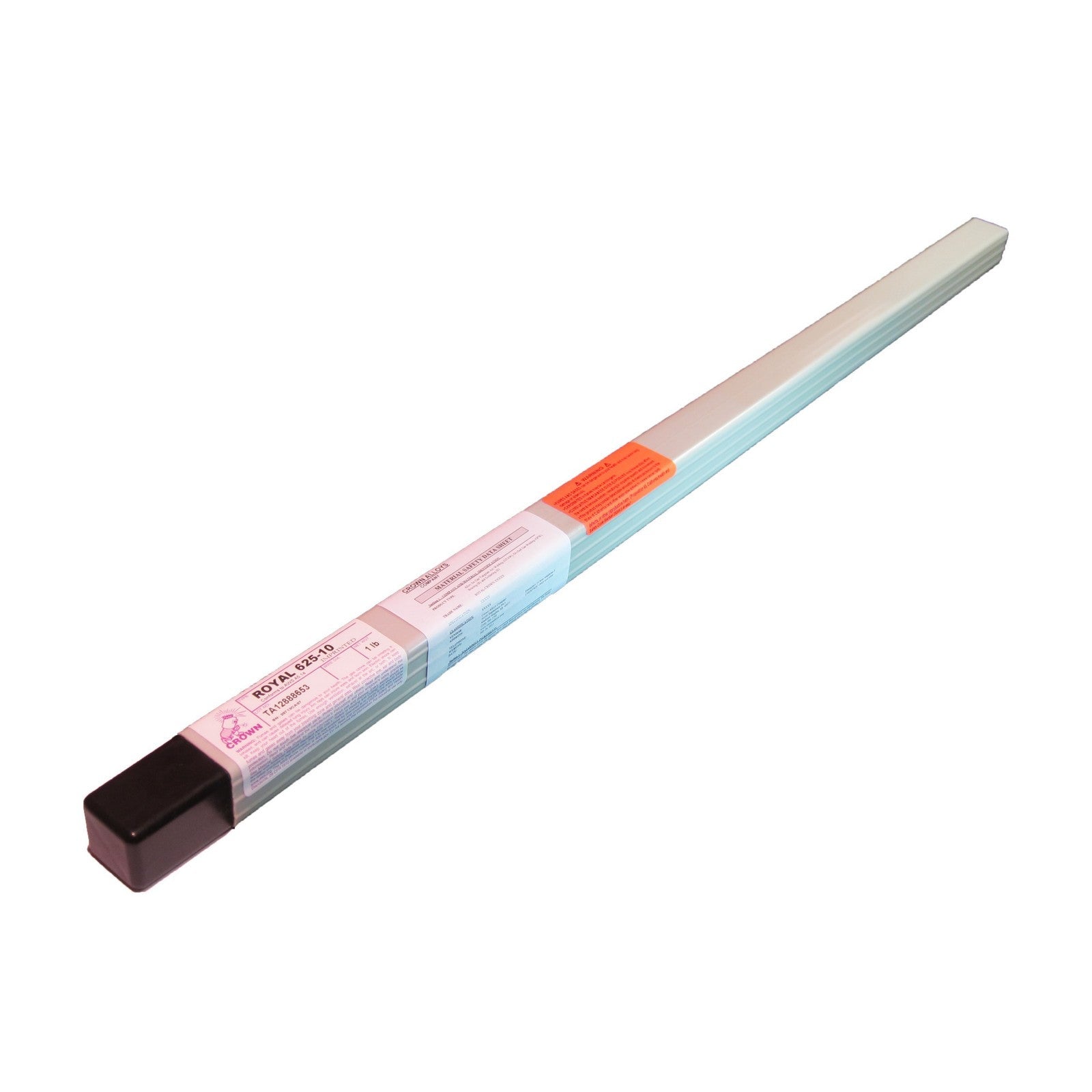 Crown Alloy 1/8 x 36" ROYAL 625-10 BR.PKG Nickel-Chrome-Moly (ER NiCrMo-3) TIG 1 lb TUBE (RT625/TO-BP)
WARNING: Cancer and Reproductive Harm - www.P65Warnings.ca.gov
Royal 625-10 (TIG) and Royal 625-30 (MIG) provide high strength welds over a broad temperature range and have exceptional corrosion resistance, including resistance to localized attack such as pitting and crevice corrosion. The aforementioned characteristics make this an ideal alloy for surfacing or cladding of steel as well as joining. This alloy is used extensively in chemical and food processing equipment, aerospace and marine engineering, pollution control equipment such as scrubbers, petroleum refining equipment and petro-chemical equipment. Royal 625-10 and Royal 625-30 are used to join Inconel alloys 625, 601, and 690, and Incoloy alloys 800HT, 800, and 825. Also used to weld 9% nickel steel and Inco alloy G & G-3. It will also join alloys 317LM, 254SMO, AL-6XN, 20 Mo-6, 904L and heat & corrosion resisting castings like HK40, HT and HY. Royal 625-10 and Royal 625-30 are useful for many dissimilar joints involving Inconel and Incoloy alloys, carbon steels, low-alloy steels and stainless steels.
Please Note:
Welding fumes and gases can be hazardous to your health.
Click here for the manufacturers MSDS information
. Both the manufacturer and Welding Supplies from IOC recommends that you read and understand the Material Safety Data Sheets and product warning statements prior to using this product.
MPN: RT625/TO-BP
UPC: 412300450615