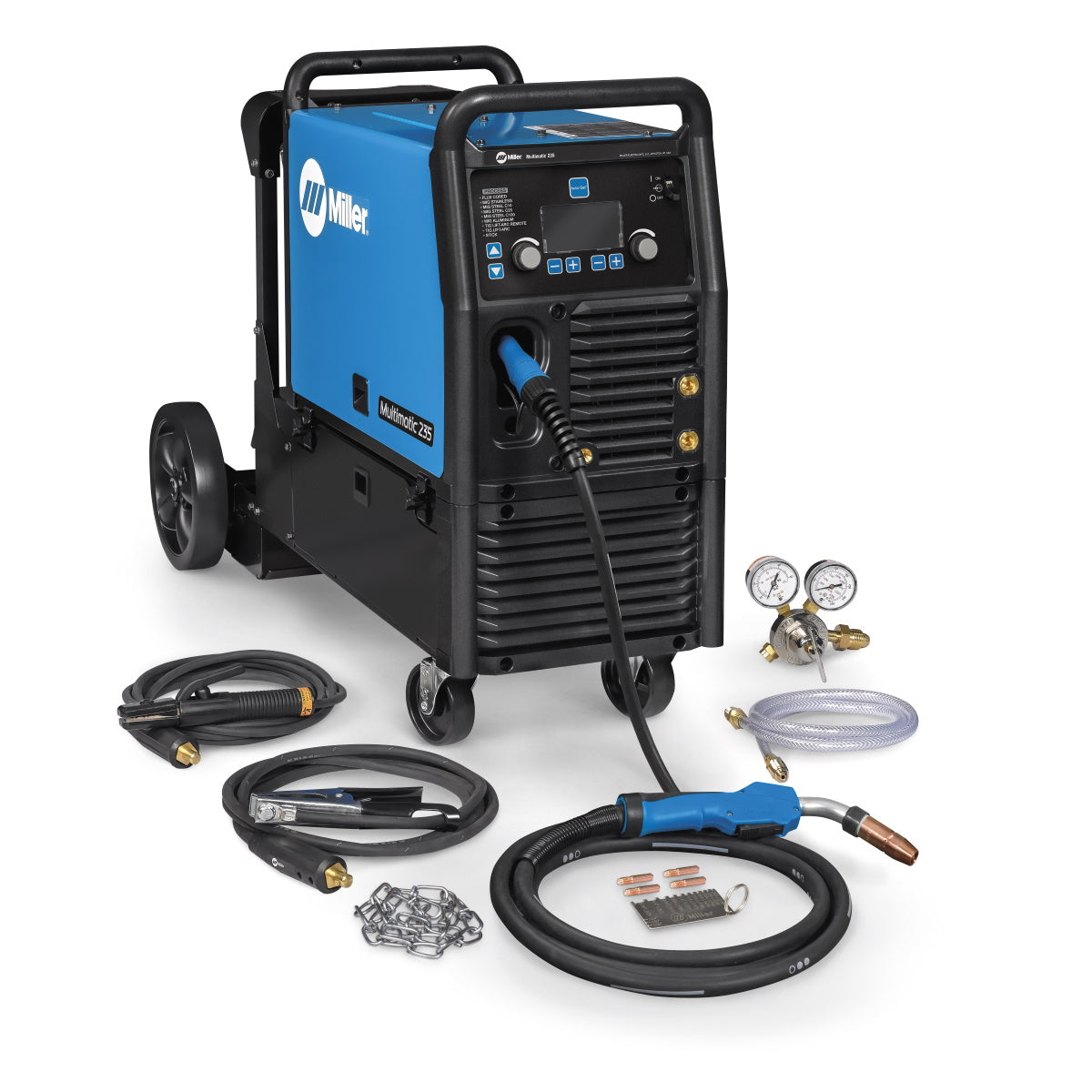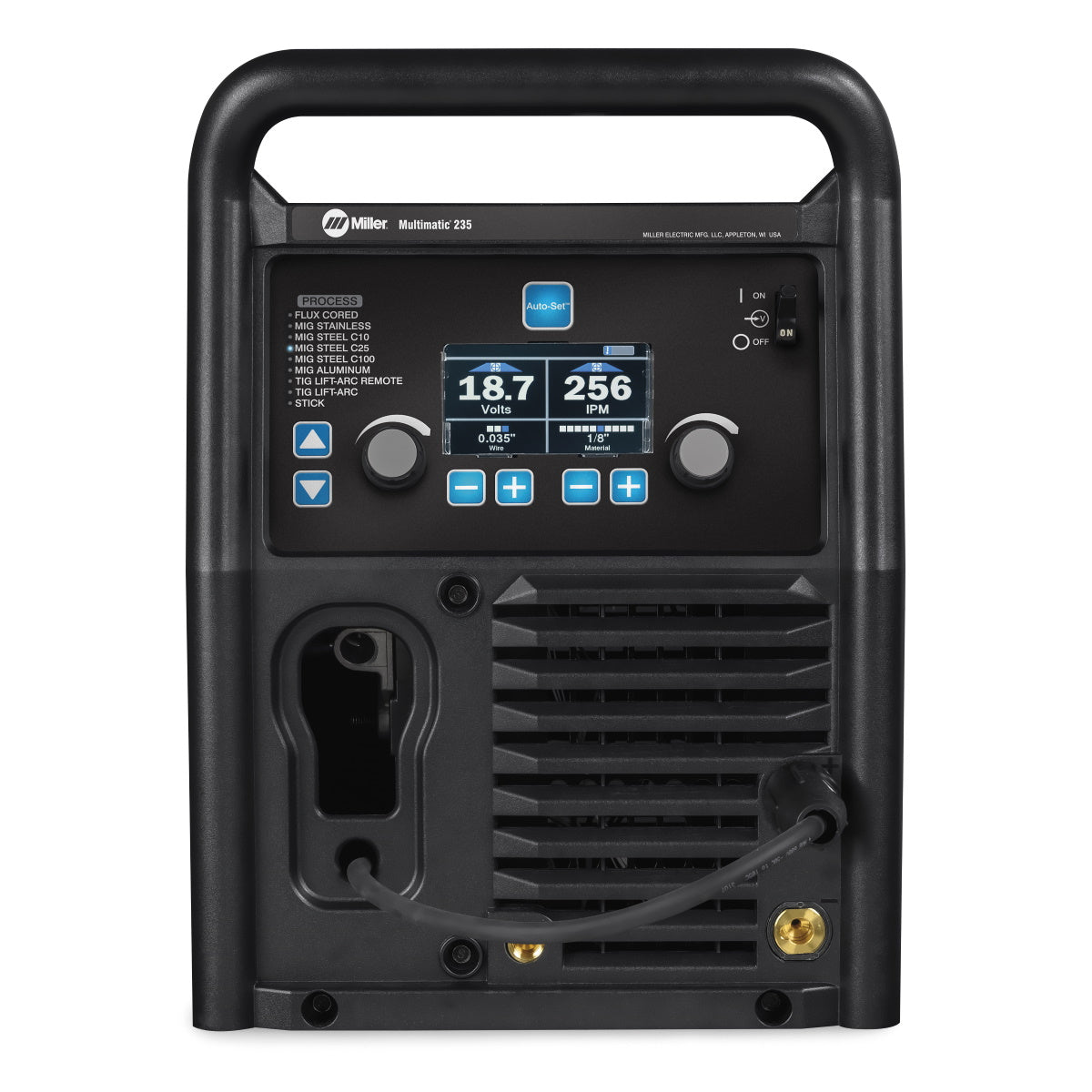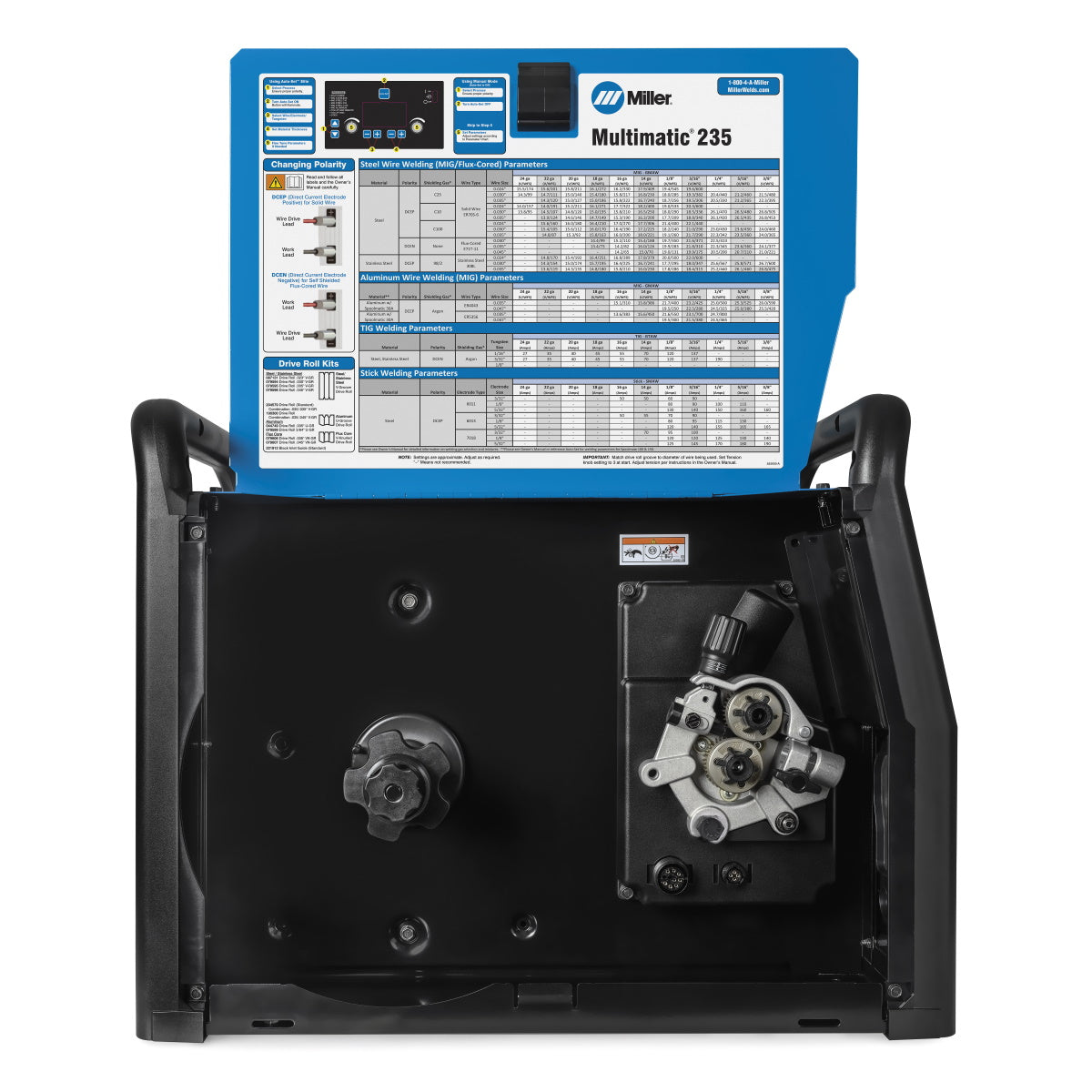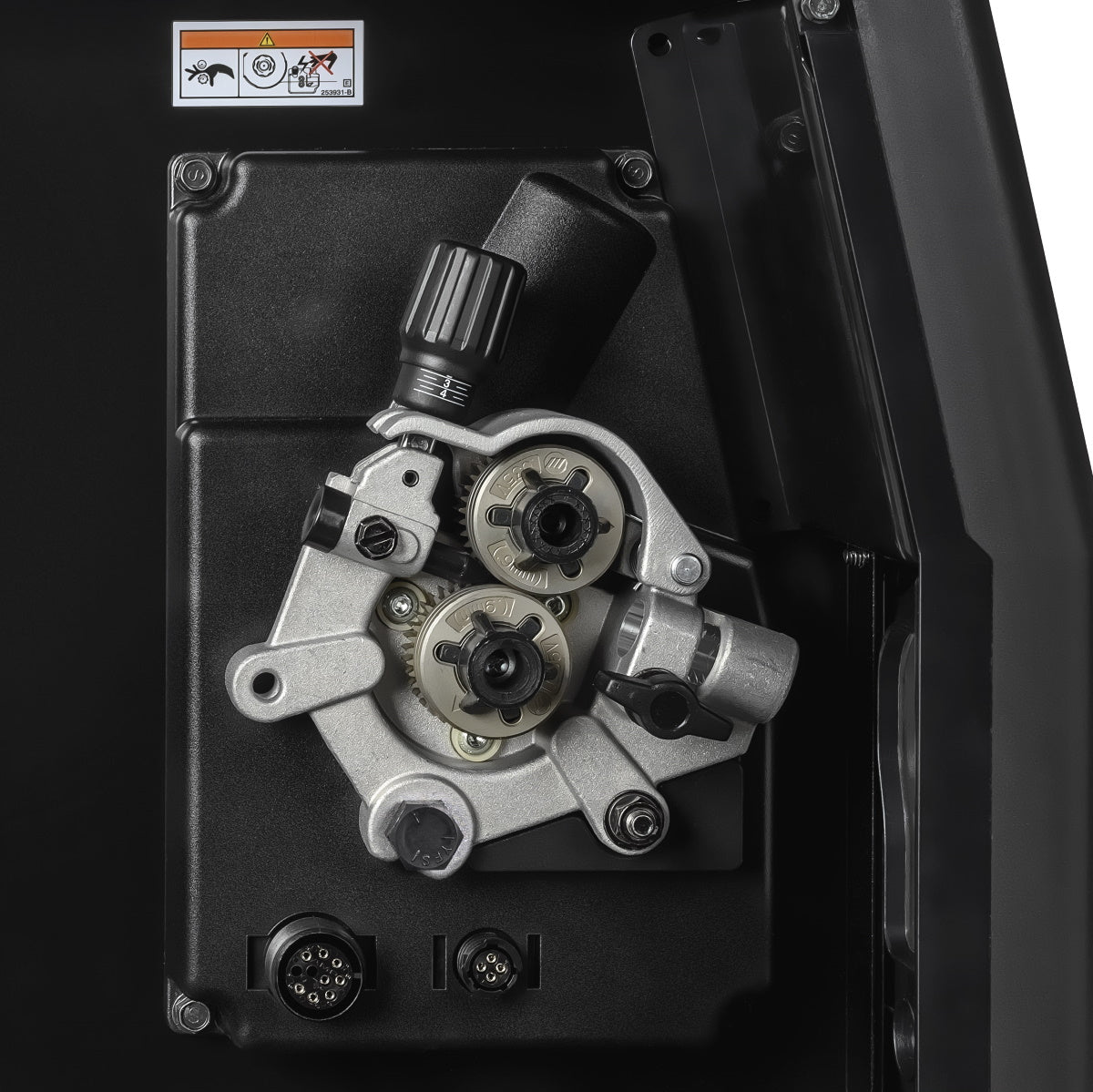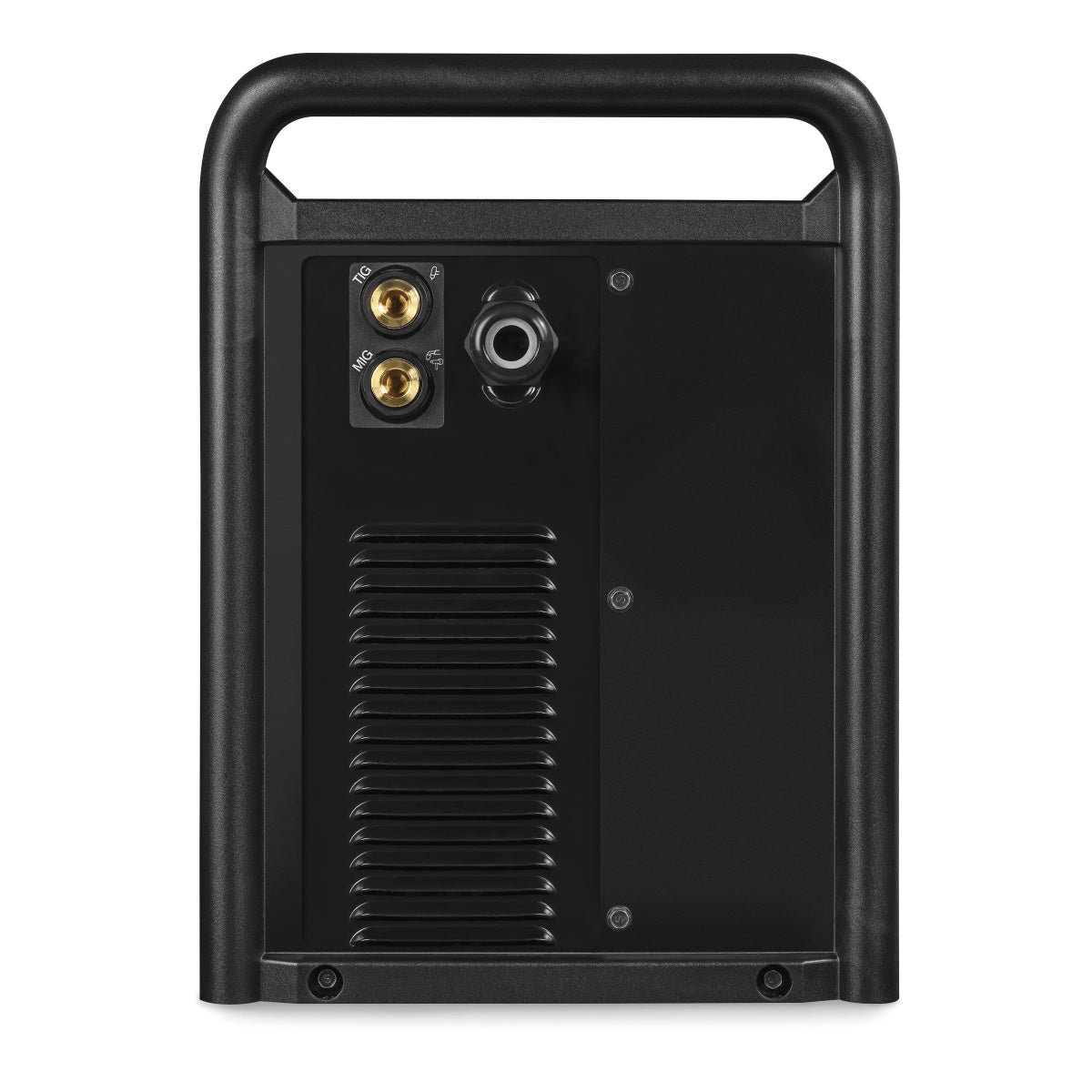 Miller Multimatic 235 Multiprocess Welder w/Running Gear (951846)
3 year warranty. MIG and TIG up to 3/8"
WARNING: Cancer and Reproductive Harm - www.P65Warnings.ca.gov
The Miller Multimatic 235 MIG, Stick and Pulsed DC Tig Welder (951846) is designed for the light manufacturing and fabrication users who want a smaller, versatile workhorse that is easy to setup and easy to use. This 235-amp inverter welder can be integrated on running gear for easy movement around the work area or it can be quickly disconnected from the running gear enabling portability, making it easier to integrate into a work cell or work in confined spaces.
Easy To Use
• Auto-Set Elite
• 12-Inch Spool Capacity
• Angled Heavy-Duty Aluminum Two Drive-Roll System
• Two Shielding Gas Connections
• 4.3 Inch Color LCD Display
MDX-250 MIG Gun with Miller MDX Acculock Consumables
Acculock consumables feature a dual-locked, front-loading liner that optimizes wire feedability. AccuLock tips install with a single turn and the liner locks at the front and back of the gun to ensure a flawless wire feed path.
Miller offers an optional MDX 250 EZ-Select MIG gun for this unit that has four LEDs on the back of the gun handle to switch between four different preset programs. This means no more trips back to the welder to make weld setting changes, i.e. increased productivity and less downtime.
Auto-Set Elite
Offers predefined weld settings to increase ease of use and ensure that the job is done right for operators of all skill levels.
Versatility
Capabilities include MIG, Flux-Cored, DC Stick, DC LIft-Arc, and Pulsed DC TIG.
Portability - Machine only weighs 63 lbs.
Optional EZ-Latch running gear
Operators no longer need to use lift truck to load machine and running gear into the truck. Latches secure machine to running gear. Simply loosen the latch retaining knob and rotate latches to disengage machine from running gear for easy portability.
Quick Specs
• Input Power: 208/220/230/240V
• Amperage Range: 20-235A
• Duty Cycle: MIG - 60% @ 170A | Stick - 60% @ 150A | TIG - 60% @ 180A
• Weight: Welder - 63 lbs | With Cart - 127 lbs
• Dimensions: Welder - 19.24" H x 13.75" W x 24.25" D | With Cart - 32" H x 13.75" W x 45" D
WHAT'S INCLUDED
• Power source with 7 ft. power cord
(No Plug Included)
• Running Gear/Cylinder Rack (301449)
• 15 ft. (4.5 m) 250-amp MDX MIG Gun with .030-.035 Liner
(Accepts Miller MDX Consumables
• 10 ft. (3 m) work cable with Electrode Holder and 50mm Dinse Connector
• 10 ft. (3m) Work Cable with clamp and 50mm Dinse-style connector
• Flow gauge regulator and gas hose for argon or AR/CO2 mix
• Extra Contact tips
• .030/.035 in. reversible drive rolls
• Material Thickness Gauge
MPN: MIL951846
UPC: 715959684200
Phase: Single Phase
Download Product Spec Sheet