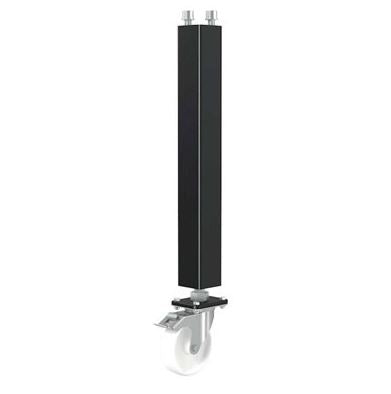 Siegmund System 16 Table Leg with Caster and Locking Brake, 750mm (29") (S2-160876-X)
Siegmund Welding Tables come with a wide range of mounting options to suit every work space. Legs are ordered individually and the quantity required will vary depending on table size.

Legs mount onto plates at the bottom of the table; to calculate height of work surface add the height of the leg and the height of the table together. For example, the 750 mm Standard Leg combined with a table height of 100 mm results in a 850 mm high work surface. Leveling feet with spindles at the bottom of the legs offer fine adjustment.

INSTALLATION
Two 14 mm hex drive cap screws with spring rings are included with each leg.
Each table leg bolt should be tightened with a torque of 150 Nm.

MAXIMUM SAFE BEARING LOAD
Vertical force direction: 10 kN
Horizontal force direction: Maximum stability ensured by large section tube (70 x 70 mm).