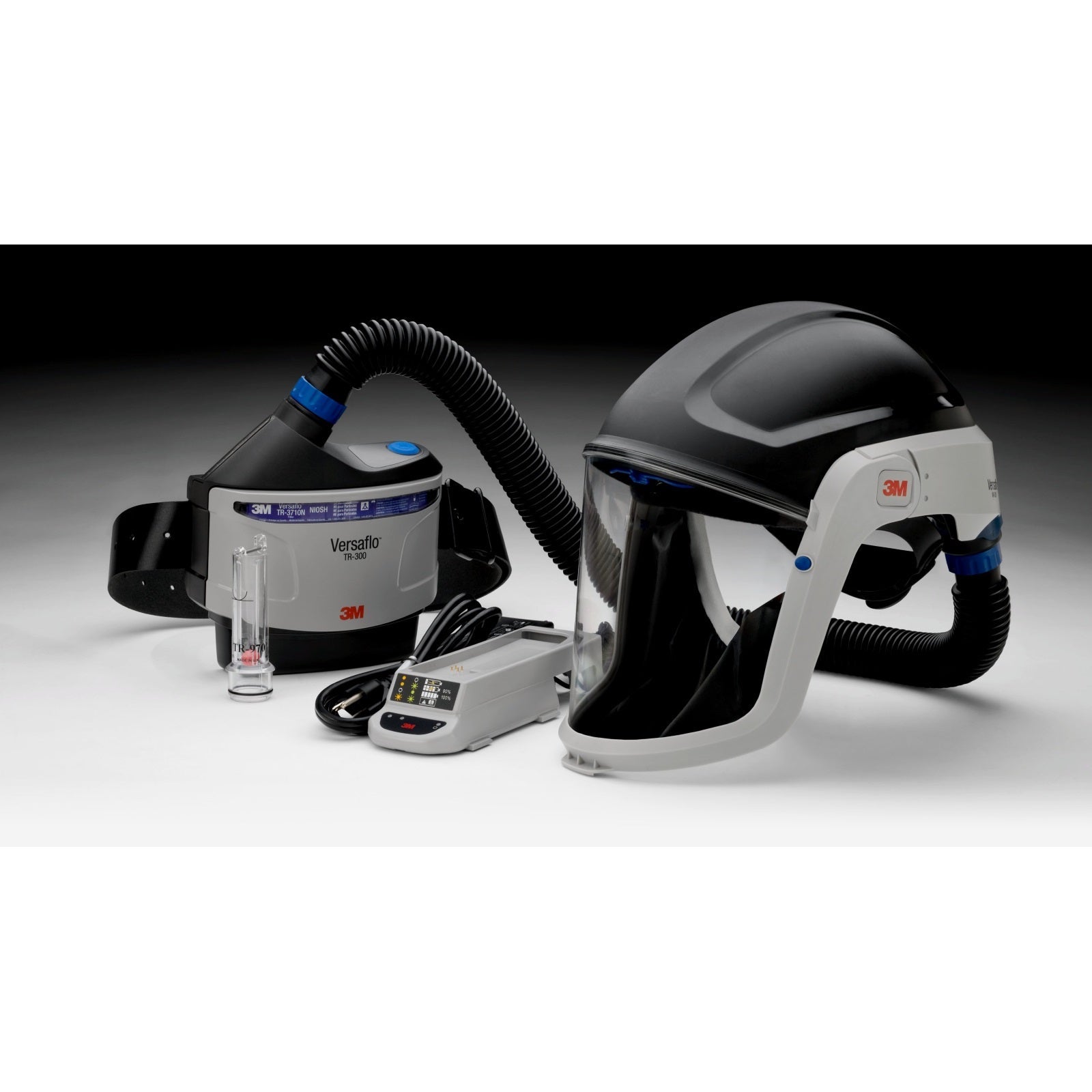 3M Versaflo Heavy Industry PAPR Kit (TR-300-HIK)
The 3M Versaflo PAPR kit is a complete particulate system for industrial applications where combined respiratory, head, eye, and face protection is required or desired. The Versaflo PAPR kit is significantly lighter and thinner than 3M's existing belt-mounted PAPR units used in the welding industry. With its compact, well-balanced and slim design, the Versaflo TR-300 PAPR kit is the answer to your respiratory protection. It keeps the light weight close to the user's back, reducing the leverage effect that can cause PAPRs to feel heavier. The slim profile is designed for use in tight spaces, and its smooth, contoured outer surfaces are less prone to snagging on nearby objects.

These PAPR systems are designed to be used at or around sea level. They will not operate properly at altitudes above 2700 feet.

Features
• Simple, one button operation
• 2 types of alarms - audible and LED
• Lightweight lithium-ion battery
• Toolless changing of the battery and filter
• LED lights on the battery indicate charge status
• Intuitive user interface

PAPR Specs
• TR-330 Battery - 4-6 hour use time
• Charging Time - less than 3 hours
• Flow Rate - nominal 190 LPM (6.7 CFM)
• PAPR Weight - 2 lbs
• Size - 8 in x 7.5 in x 3.5 in
• Operating Altitude - sea level up to 2,600 feet
• 1 Year Mfg Warranty on PAPR

Includes
• M-307 Respiratory Hard Hat
• TR-306N PAPR with Leather Belt
• BT-40 Heavy Duty Breathing Tube
• Battery Charger
• TR-3710N Filter
• TR-362 Spark Arrestor/Prefilter

The optional backpack (BPK-01) can be found under the "accessories" tab.
MPN: HORTR-300-HIK
UPC: 00051131173781