Buying welding machines can sometimes feel like walking through a minefield. You hope your purchase won't blow up in your face, but how do you know without trying? It'd be a whole lot easier if you could see where other people had stepped, learned from their mistakes and successes. That's exactly why reviews are so helpful.
To help you decide which machine is best for you, we've highlighted our most-reviewed products with testimonials from real people.
MIG:

"I was replacing a Miller 185 that I used for 20 years. The 211 is very easy to use, the "auto" settings actually worked right out of the box. Good product."
          - Lawrence B.
As possibly the best-selling MIG machine in the history of the world, if you haven't heard of the Millermatic 211, you owe it to yourself to check it out.

"Did a ton of research on welders. Decided on the ESAB Rebel EM 215ic. As a welder by trade, my work has very high dollar machines that I weld with every day. I wanted something to use at home for some side projects, but did not want to break the bank. This welder was very well priced and after getting it, I couldn't be happier. Welds just as good as my welders at work. IOC had great prices and a great promotion"
          - Gregory B.
The Rebel EM 215ic has quickly become a favorite in the welding community. This particular version is MIG-only, although the EMP 235ic is a multiprocess machine with a lot of similarities (and it has a $200 rebate for a limited time!).
TIG/Multiprocess: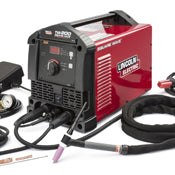 "40 years welding structural and pipe on nuclear subs. Lincoln was my preferred welding machine. [The Square Wave 200] has always been very dependable and I like using the pulse welding feature. I will be using this machine to teach my grandsons how to weld. I like the foot pedal but I wish it also came with the hand amptrol K 963-3. Easy to use and love all the features"
          - Gordon C.
When it comes to dedicated TIG machines, the Square Wave might very well be the world champion. It offers the perfect level of solid, reliable performance with all the features you want and no gimmicks.
"Awesome welder! I've been using it a lot since I bought it and haven't seen anything so far that I don't like. It is small in size, which makes it easy to move around in my shop, but is powerful to do most anything that I need."
The 215 has become a favorite multi-process machine, offering a nice balance of power and pricing. It comes with all the features that people love in the Millermatic 211 (autoset, smooth wire feed, etc.) and a ton of new ones to make it easy to lay the perfect bead. It can do just about anything but AC TIG Weld (cannot TIG weld aluminum). If you are looking for a multiprocess machine that can AC TIG weld, check out the Multimatic 220.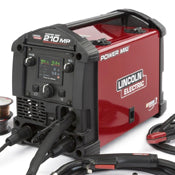 "So far this welder is working just fine! It showed up when I was told it would. It is extremely easy to use. The touch screen guides you through the setup process step-by-step."
          - Aaron M.
If Lincoln is your brand of choice, the MIG 210 MP is your machine. It's incredibly easy to use while still allowing plenty of control. As a Multi-process unit, it can compete with any dedicated stick, MIG or TIG machine with the exception of being able to AC TIG weld (cannot TIG weld aluminum).
ESAB Rebel EMP 205ic AC/DC Multi-Process Machine

"Love this welder. Aluminum is now possible for me to weld like a pro. Very happy with this purchase."
The ESAB 205 is one of the few multi-process machines on the market that can do it all. It's AC TIG functionality means it can actually TIG weld aluminum. If you're looking for the last machine you'll ever need for just about anything, the 205 is the perfect choice.
"This machine does exactly as it says. The only complaint I have is the aluminum settings on sMIG could have a broader range. Once you get to a certain gauge, it no longer has any further settings. But it has plenty of adjustments on the manual adjustments. All in all, the machine is worth the money"
          - James J.
Plasma Cutters: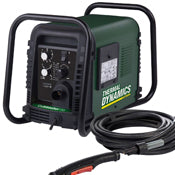 "The Cutmaster 58 cuts 1/2" plate just like they say it does. Love it!!!"
          - Steward S.
Thermal dynamics is all about plasma cutters. It's what they do. The Cutmaster isn't an auxiliary product to their normal line, it is their normal line. That single focus and passion is never more apparent than with the Cutmaster 58.
"It's a beast. It cuts 1/4 inch steel plate like a hot knife through butter. It's massively sped up how quickly we can turn cutting and welding jobs. The fact that it will run on single phase 220 and from a generator out in the field is a real bonus."

"I will say that my wife and I have used it to cut 3/16 plate. It cuts as fast as we can write."
          - Brian P.
Hypertherm has become the leader in revolutionary plasma technology. Their dedication and passion has turned the Powermax45 XP into one of the most satisfying experiences you can have, allowing you to turn steel into paper.
"After receiving this unit and setting up, It cut through material in minutes that would have taken me hours before.
And it did a much cleaner job too. If this machine holds up, and I expect it to — given the quality of the components that Hypertherm uses, I will be a true convert. Both the local ship and IOC confirmed that they have very few service issues compared to the other brands of plasma cutters. 
Even though they cost a little more than the competition, I think that there is more value in the Hypertherm unit, and I wouldn't hesitate to recommend them to anyone."
          - Richard V.